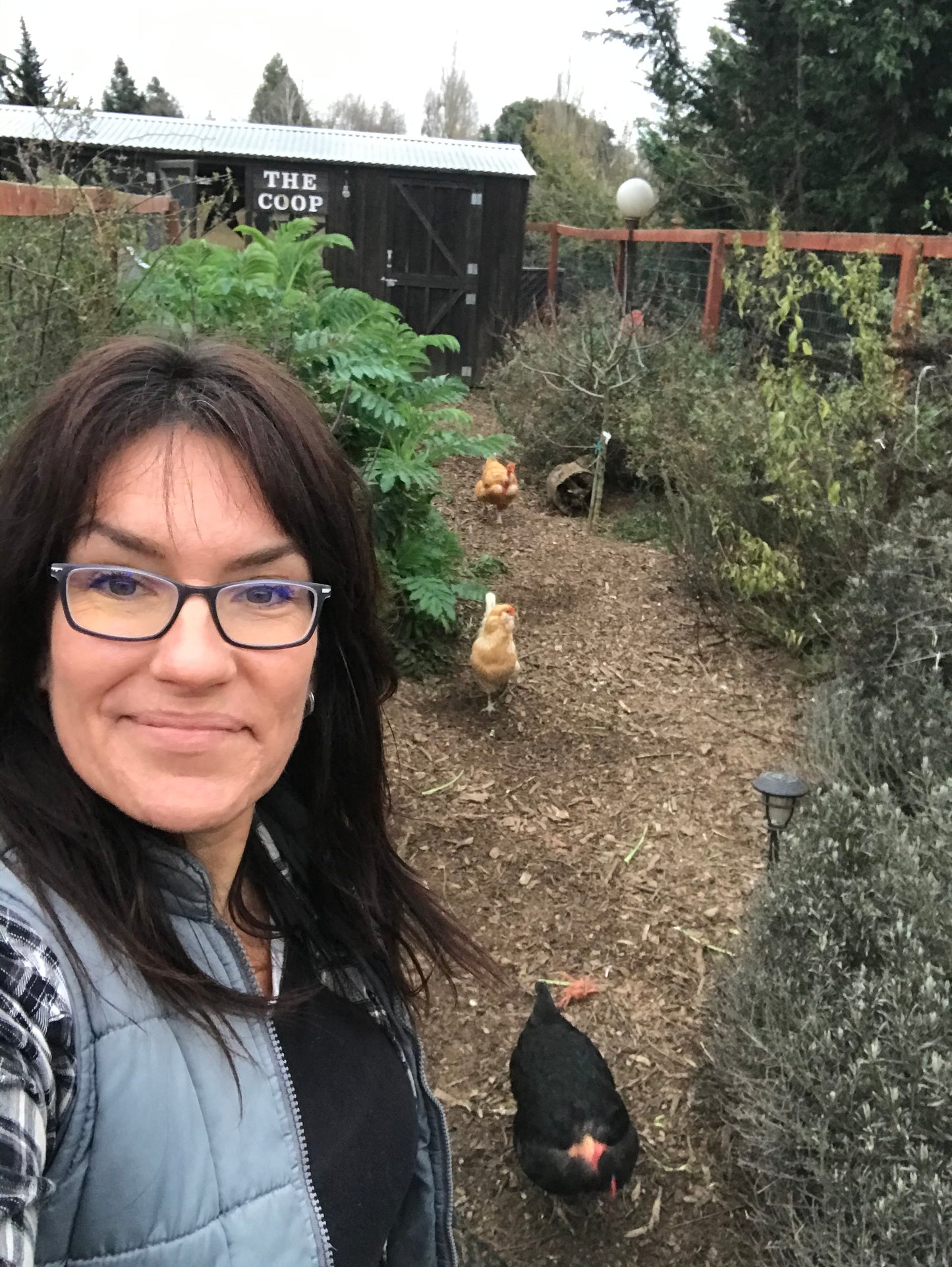 Hi Treats for Chickens' community, it's me, Dawn!
My birds calm me. I enjoy their personalities. They don't give a darn chicken turd about COVID-19 and that calms me too. They don't want to talk about it- pandemic or lockdowns, don't have an opinion either and all.the.things are business as usual for them. It's a pleasant change. 
Believe me, I am taking this situation seriously. I'm just saying I appreciate the aloof character of my flock in times of stress.  
So here's the thing. My pet chickens aren't bored. Not that I'm aware of. But me? Ahhhh. I'm going to be short on projects in the next week once I've:
Completed a double scrub on the coop and nesting boxes.
Hung sparkly lights on/around the coop. This was a X-mas project that never got started.
Rearrange and set up my poultry dusting station. [more on that here].
Clean out and rearrange my coop storage.
Trim the lavender in the pathway.
Attend the chicken run and what other plants I could add. Which I highly recommend green thumbs, garden enthusiasts, horticulturists, to read Plants that Thrive + Survive in My Chicken Run. 
Trim the fig tree in the run
Scrub water fountains
Water my hanging ferns and my olive tree [these are inside the enclosed nesting box area]
Yep: that should consume a big chunk of time: all of that is going to take me three hours.  Three. Hours!
Then I'll clean and organize every.space in my home. Closets, cabinets, drawers, the pantry. Under the kitchen sink - ugh, that's fun. I'll clean and rearrange patio furniture for the visitors that won't be coming. Are you with me? 
Then I'll move on to pulling out every single sea shell that I have collected over the years. The plan since 1985 has been to make wind chimes with the shells and small pieces of driftwood. No better time than COVID-19 2020 to actually get it done, right? 
I will finally finish compiling and sending out the second batch of #dellstomatoeseeds. 
If you think of all the things that can get done during this time.....it's pretty amazing. When this is done there won't be a single thing to wish I had time to complete.
One more thing I will absolutely do is make a new upcycled treat toy aka boredom buster- out of a plastic water bottle. The chickens aren't bored but like I said: I am. 
It's easy. 
And, you can make these yourself. 
DIY Boredom Buster for Your Flock, a Chicken Toy: upcycle a plastic bottle. 
Carefully poke holes all over the plastic bottle (and for heavens sakes don't cut, stab, poke or slice your hands and fingers).
Fill ½ way with treats, seeds or grains or a delicious certified organic treat- Cluck Yea.
Screw on cap and share with your backyard chickens. 
And so there you have it. On more ways for your flock to bust the boredom, read 5 DIY Boredom Busters for Chickens (That Won't Cost a Penny) + Broodie again? blog.
What are you doing to stay sane, simple and healthy? Comment below!
- Dawn, Treats for Chickens 🧡
Can we kelp you? For more information about domestic fowls, visit Treats For Chickens blog, cluck 
HERE
.
Hungry for more feathered friend wellness? Of course you do, because your flock deserves eggs (cellent) treat (ment). For fabulous and healthy fun, Treats for Chickens recommends our bundle:
Double Boredom Bundle
.
Share your flock experience with Treats for Chickens on Instagram + Facebook with #treatsforchickens #petsofinstagram #chickensareawesome #featheredfriends #chickenisfun
Let's keep your flock happy + healthy!
Got something to cluck about? Have other suggestions? Questions?
Help fellow chicken parents and leave a comment below!