The Nitty Gritty on Healthy Hen Wellness Blend™
TIPS FOR USE

Here's what you need to do: Fling, scatter or sprinkle this supplement on the ground to encourage natural foraging, scratching and pecking! Or sprinkle herbs over the top of food daily. Or another Treats for Chickens suggestion is to blend half of Healthy Hen Wellness with 50 lbs of feed and serve. Your flock will take care of the rest.

Is Healthy Hen Wellness chick age appropriate? Sure is. Start healthy eating habits at a young age. Green goods can be fed to baby chicks- a good start to their wellness.

General Pro-Chick Tip: be sure that baby chicks under two weeks of age always have access to grit so they can properly digest their food.
INGREDIENTS MATTER

Organic Air Dried Alfalfa, Organic Nettle, Organic Comfrey, Organic Echinacea, Organic Rosehip, Organic Anise, Organic Funegreek Seeds, Organic Garlic, Organic Dandelion, Organic Peppermint, Organic Lavender, Organic Thyme, Organic Chamomile and Organic Calendula (marigold petals).

What makes us unique? Treats for Chickens products are proudly mixed and made locally in one location in Sonoma County, California, USA.

Treats for Chickens products do not contain artificial colors, flavors, fillers, or preservatives. Our natural ingredients are safe for handling, so reach in and scoop out as needed. 
HOW TO STORE THIS PRODUCT

Best when used within 90 days of opening the resealable Healthy Hen Wellness Blend package.

Store in a cool, dry location and avoid extreme heat and direct sunlight.

Do not expose Healthy Hen Wellness Blend to moisture.

Not intended for medical use.

Not intended for "feed" or complete food source.

Not for human consumption.

Keep out of reach of children.
SAVINGS

Want to be a part of the Treats for Chickens community? Join our generous  Subscribe + Save program: Shop + Select = Save 20% on your order.

As a member of the Treats for Chickens Subscribe + Save program, you have first priority on product availability and shipments.

Plus, there's lots of flexibility and you can cancel at any time, skip a month if you have plenty, or edit your order depending on your preferences and the time of year. And, you'll have lots of options to add one-time things into your order like seasonal chick products, Molt Mender, bundles of our best sellers or a chicken toy to reduce boredom.

Join today and save 20%.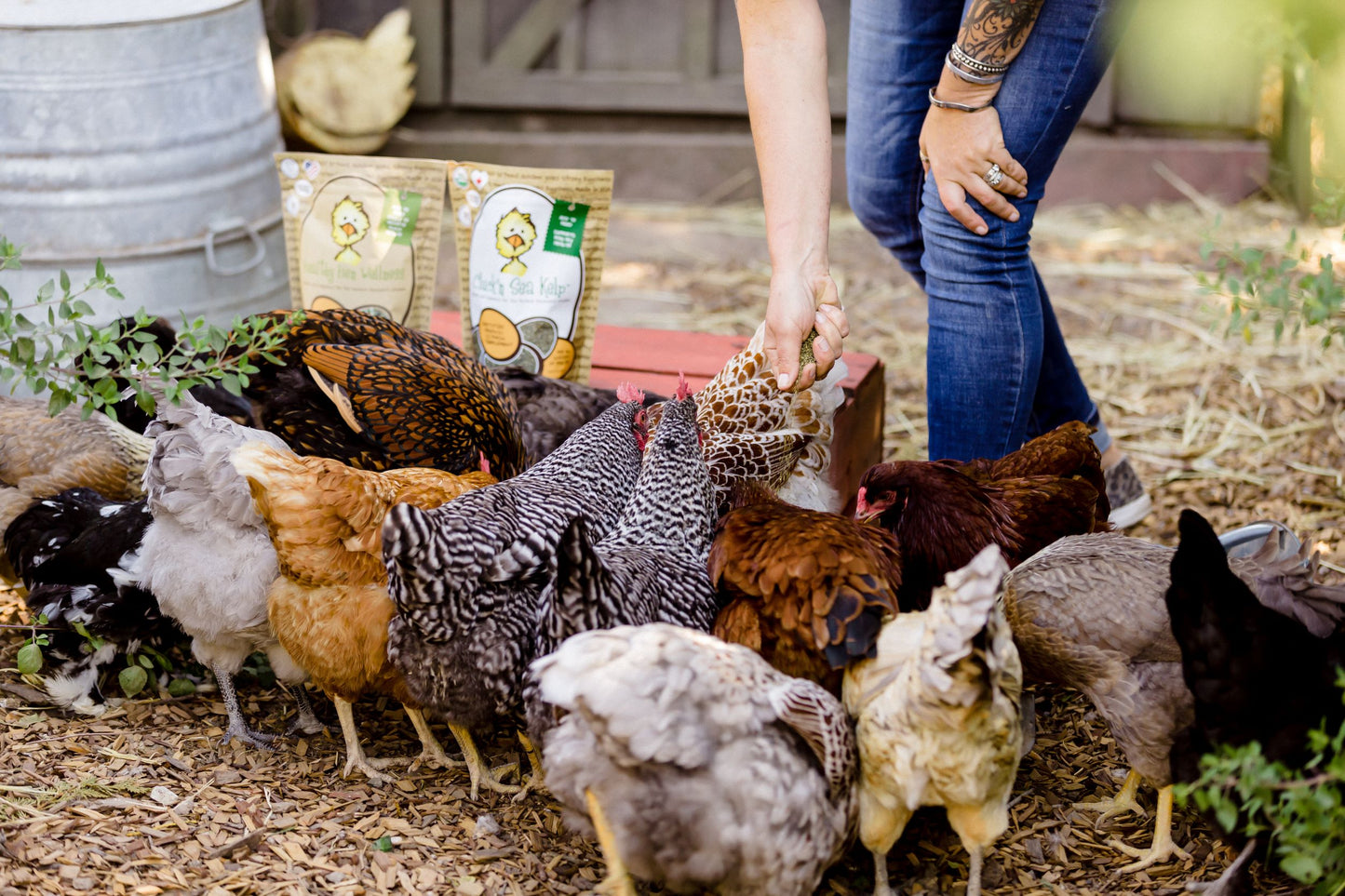 Can We Kelp You?
For more information on raising backyard chickens, planting the best plants in your run and around the coop, or mysterious egg laying (or hens not laying eggs), visit Treats for Chickens' The Blog.
Reviews From Pet Chicken Parents
As always, thank you for sharing! Treats for Chickens' chicken parents rely on your honest feedback. -Dawn 🧡
The BEST blend of vitamins and goodies!
I've been a faithful user of Healthy Hen Wellness Blend for over a year now! My girls feel and look amazing! That little extra all natural kick they need in their feed. A must for all chicken lovers!
Our hens 💖💖💖 it! 👏👏👏
Excellent quality, as with EVERYTHING from TREATS FOR CHICKENS!! Many of our neighbors have been complaining that their hens have stopped laying. We have been blessed to have an abundance of eggs virtually every day! Try the Healthy Hen Wellness Blend and see if it also makes a difference for you! 😉. Holly in Montana.
Smells almost too good for the girls....
Oh my goodness - when I opened this bag I thought immediately about brewing myself a cup of tea - what a wonderful smell! But...my ladies have me well trained and they wanted their afternoon salad so I made them a beautiful mixed green salad with veg from the garden, threw on some sprouts and topped it all off with a generous serving of this wonderful blend. Happy Happy Hsppy ladies. I have never heard seven hens make so much happy noise. They give it a vote of wings up! Ordering more right now.
O MY LANTA
These smell fantastic. The bags are filled to the top with yumminess. The girls love these. They dig through their feed looking for these. I can't believe I waited as long as I did to order.
SO worth it!!!
This bundle is perfect, for so many reasons! I knew my girls already loved Chicken Crack as that was their first introduction to treats since we're able to buy it locally. They went CRAZY for Cluck Yea and may have a new favorite treat... I personally love the nesting box blend! It smells so good, and I really think it helped the girls learn where to lay and helped them get comfortable. We will absolutely buy this again, and explore some other treats too!