The Nitty Gritty on Pardon My Dust™
TIPS FOR USE

So, here's what you'll get: This Treats for Chickens 4-pound resealable bag comes with 20 applications. That's 20 opportunities for your feathered friends to hunker down in the dirt, wallow in it just a tad, stretch their wings and flap, wiggle and fling Pardon My Dust all-over-the-place - with no excuses or apology needed. Here at Treats for Chickens, we encourage this kind of behavior!


Here's what you need to do: Add 1 or 2 scoops (Dawn uses a large wooden spoon btw) to an already determined chicken dusting area (aka "holes") and your flock will take care of the rest.  One or two scoops of Pardon My Dust per 3-4 hens + plain old dirt will do just great.  

Or if dusting shenanigans need to be a little more controlled, add Pardon My Dust to a container (kiddie pool, shallow bin, deep tray, wine barrel, etc.) that is filled a bit with dirt, sand, shavings, or a material of your choice. Add several scoops of Pardon My Dust and your flock will do the rest.

Is Pardon My Dust chick age appropriate? Sure is. Start healthy hygiene habits at a young age, even without a mom hen on standby. Sprinkle a scoop on top of dirt or into a small tray, chicks will dive in to start dusting: cleaning and preening. It's adorable to watch so keep your camera handy.

General Pro-Chick Tip: be sure that baby chicks under two weeks of age always have access to grit so they can properly digest their food.
INGREDIENTS MATTER

Food Grade Diatomaceous Earth, Hardwood Charcoal Powder, Fill Sand, Organic Wormwood Powder, Organic Calendula Powder, Organic Chamomile Powder, Organic Neem Powder.


Treats for Chickens products do not contain artificial colors, flavors, fillers, perfumes, or preservatives. Our natural ingredients are safe for handling, so reach in and scoop out as needed.

What makes us unique? Treats for Chickens products are proudly mixed and made locally in one location in Sonoma County, California, USA.
HOW TO STORE THIS PRODUCT

Best when used within 90 days of opening the resealable Pardon My Dust package.

Store in a cool, dry location and avoid extreme heat and direct sunlight.

Do not expose Pardon My Dust to moisture.

Not intended for medical use.

Not intended for "feed" or complete food source.

Not for human consumption.

Keep out of reach of children.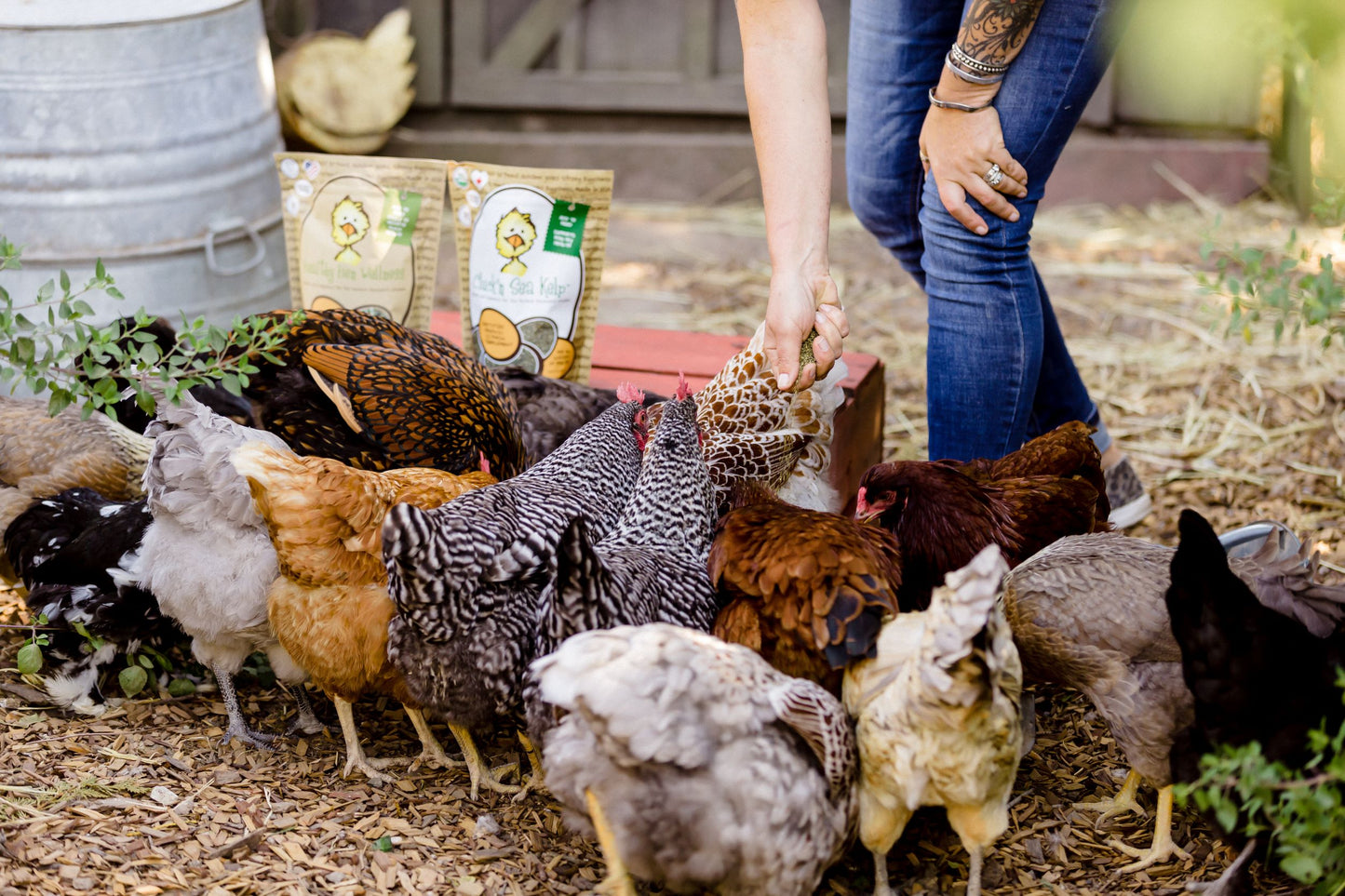 Can We Kelp You?
For more information on raising backyard chickens, planting the best plants in your run and around the coop, or mysterious egg laying (or hens not laying eggs), visit Treats for Chickens' The Blog.
Reviews From Pet Chicken Parents
As always, thank you for sharing! Treats for Chickens' chicken parents rely on your honest feedback. -Dawn 🧡
Great as always
Girls are in full summer mode & added amendments to their dust bath(s) is/are always welcome!!! BE GONE MITES/LICE!!!
I can hardly wait!!
My mom always makes me a wonderful dirt bath, but when she saw "pardon my dust" she brought it to my attention and we decided to try it. I was a bit skeptical, as my mom's dirt bath mix feels so good - but I am always willing to try what she thinks might be good for me.
Well…. I LOVE it!! Whenever I hear the bag I can hardly wait to dive in!! I just "feel" better after soaking in a "pardon my dust" dirt bath. I look for that special spot and bathe away.
I love it!!
Thank you for helping my mom make certain I am always healthy and happy!! We both appreciate it!
🐓Henrietta
Mighty against mites!
I've struggled with mites on my girls off and on for the past few years. The Pardon My Dust along with a couple changes in my coop have helped almost eradicate all the mites. I let my girls choose the dusting holes (they are stubborn and don't use the dusting spots that I pick) and I dump a couple scoops in each spot. This stuff really works!!!
Oh my word, we have happy birds!
We have six hens and the floor of their run is sand. They dust bathe in the sand, and one time I added some (expensive!) wood ash I purchased. They weren't impressed. Cut to me adding too scoops of Pardon My Dust to the sand in a corner of the run. Not 3 minutes after I left the run, 4 girls were dusting away joyously! (The other 2 were laying). I was stunned, and seeing is believing. We haven't found one TfC product that we don't love. Brava again, Dawn!
LOVE THIS!
My chickens love their dust bath filled with Pardon My Dust. They wait in line to dust bathe! Great product! I love knowing that they are using a product that helps to promote healthy, happy chickens!