The Nitty Gritty on Cluck'n Sea Kelp™
TIPS FOR USE

Here's what you need to do: Fling, scatter or sprinkle this kelp meal supplement on the ground to encourage natural foraging, scratching, and pecking! From Treats for Chickens experience, is to fling Cluck'n Sea Kelp all.over.the.run. So your chickens can eat the granules while they are taking in other natural matter in the run (bugs, dirt, tiny pebbles, greenery, etc.). Or add 1/4 cup of Cluck'n Sea Kelp per 11 lbs of your flock's regular feed. Bhut, as an extra treat, Treats for Chickens has another suggestion, add one teaspoon to two spoonfuls of plain yogurt and serve. Your flock will take care of the rest.

Is Cluck'n Sea Kelp chick age appropriate? Sure is. Start healthy eating habits at a young age. Kelp meal granules can be fed to baby chicks as soon as they hatch. Sea kelp meal is known to promote healthy bone growth and development as well as reduce coccidiosis outbreaks, too. 

General Pro-Chick Tip: be sure that baby chicks under two weeks of age always have access to grit so they can properly digest their food.
INGREDIENTS MATTER

Organic Kelp Meal

What makes us unique? This Treats for Chickens product is proudly sourced from the icy cold waters of Canada and is hand-packaged in one location in Sonoma County, California, USA.

Treats for Chickens products do not contain artificial colors, flavors, fillers, or preservatives. Our natural ingredients are safe for handling, so reach in and scoop out as needed. 
ANALYSIS

• Crude Protein (min): 4.00%
• Crude Fat (min) 2.00%
• Crude Fiber (max) 8.00%
• Moisture (max) 13.00%
• Calcium (min)/(max) 1.20%/1.70%
• Salt (min)/(max) 0.48%/0.98%
• Phosphorus (min) 0.10%
• Lysine (min) 0.30%
• Methionine (min) 0.11%

 
HOW TO STORE THIS PRODUCT

Best when used within 90 days of opening the resealable Cluck'n Sea Kelp package.

Store in a cool, dry location and avoid extreme heat and direct sunlight.

Do not expose Cluck'n Sea Kelp to moisture.

Not intended for medical use.

Not intended for "feed" or complete food source.

Not for human consumption.

Keep out of reach of children.
SAVINGS

Want to be a part of the Treats for Chickens community? Join our generous  Subscribe + Save program: Shop + Select = Save 20% on your order.

As a member of the Treats for Chickens Subscribe + Save program, you have first priority on product availability and shipments.

Plus, there's lots of flexibility and you can cancel at any time, skip a month if you have plenty, or edit your order depending on your preferences and the time of year. And, you'll have lots of options to add one-time things into your order like seasonal chick products, Molt Mender, bundles of our best sellers or a chicken toy to reduce boredom.

Join today and save 20%.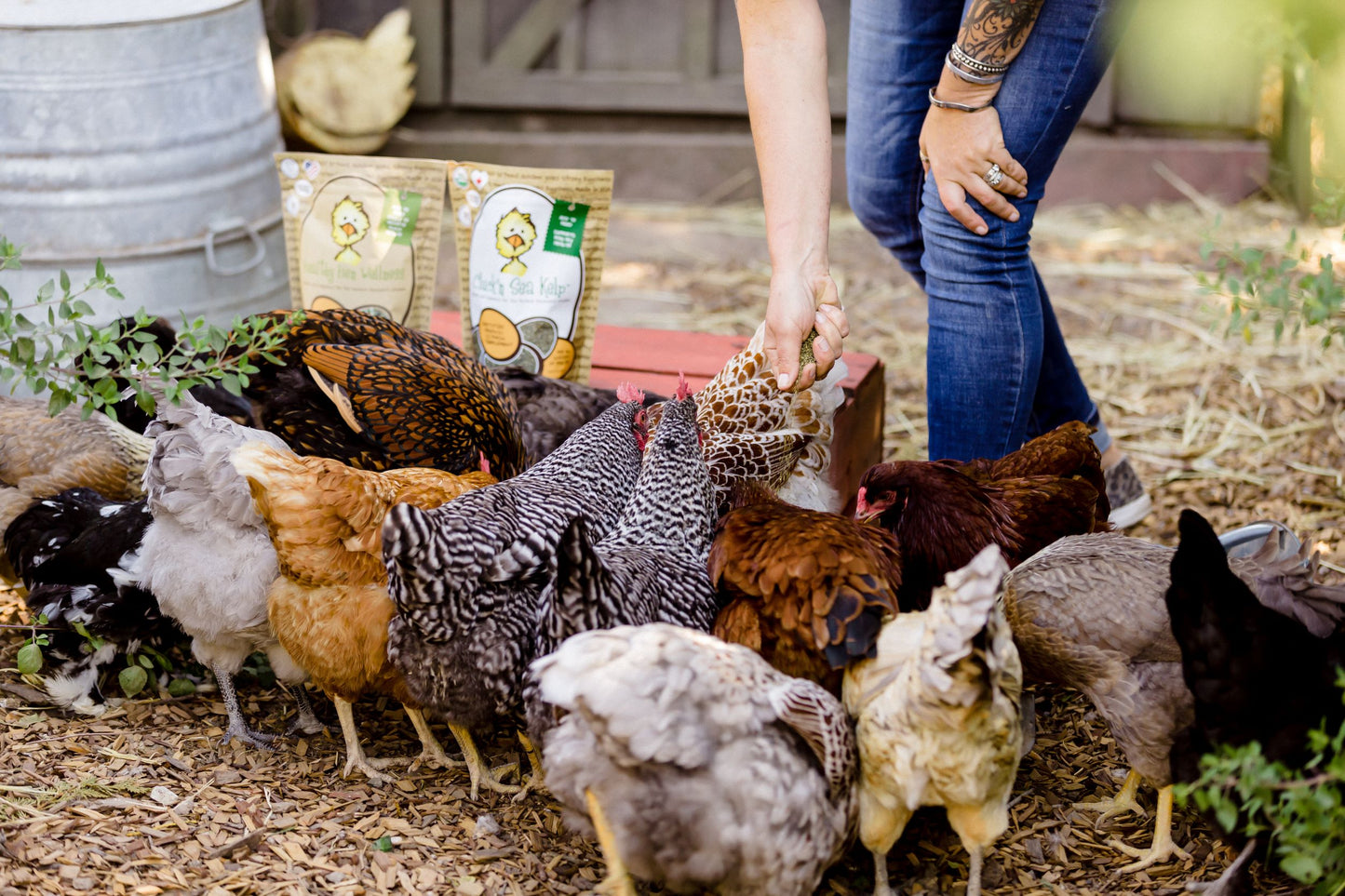 Can We Kelp You?
For more information on raising backyard chickens, planting the best plants in your run and around the coop, or mysterious egg laying (or hens not laying eggs), visit Treats for Chickens' The Blog.
Reviews From Pet Chicken Parents
As always, thank you for sharing! Treats for Chickens' chicken parents rely on your honest feedback. -Dawn 🧡
Great product!
Bought this for my chickens after reading how it helps keep chickens healthy. I love having this knowing that it will contribute to our girls' overall well-being. I just mix this in with their feed and they gobble it up! Can't wait for them to start laying eggs so we can see the difference with the sea kelp added!
Amazing difference in yolk color!!
We weren't aware of the benefits of sea kelp but upon learning about them we were excited to try the product. We are grateful for this company and their commitment to healthy, organic options for our flock!
The chickens yolks have turned a deeper golden-orange AND they go bananas for the treat! Highly recommend, 5 stars!
Xo, Quinn's Community Farm
Cluck'n Sea Kelp is the Bomb!!
I have been using Cluck'n Sea Kelp for a couple years now and my girl love love love it!! The eggs they give back to me are so beautiful. I scatter it in their coop and also on the tray of greens that they get in the mornings. Dawn I certainly hope you continue to sell this product because I would be lost without it!!
Adding to Chicken Food
So, I like this product and for the price I am glad it only needs to be used sparingly in my case. I mix very small amounts in our chickens food as an additive. I don't think they would LOVE it if I just sprinkled it around for them to scratch and peek at, but I enjoy the benefits it has for the chickens and the eggs we eat. I would buy again, but like I said, my chickens at least, only like it in small amounts, but I am trying hard to have super delicious, nutrious amber yolk eggs, and this helps for sure!
Always my go to!!
I have been using Cluckn Sea Kelp for a few years now. I sprinkle it over greens, BOSS, and dried meal worms which I give my chickens daily for their treat. The girls love it!!