Have Any Questions? Can We Kelp You?
We recognize that often you don't want to call in, send that email or weed through an endless array of questions and answers. With that in mind, we have done our best to simplify our FAQ of the greatest questions we've been asked over the years from chicken parents like you.
Still want to talk to a team member at Treats for Chickens? We get that. Prefer to send an email? We get that too. You can reach us Monday through Thursday at the contact info listed below (at the very, very bottom!)
Reach out to us, we are happy to assist you and your flock!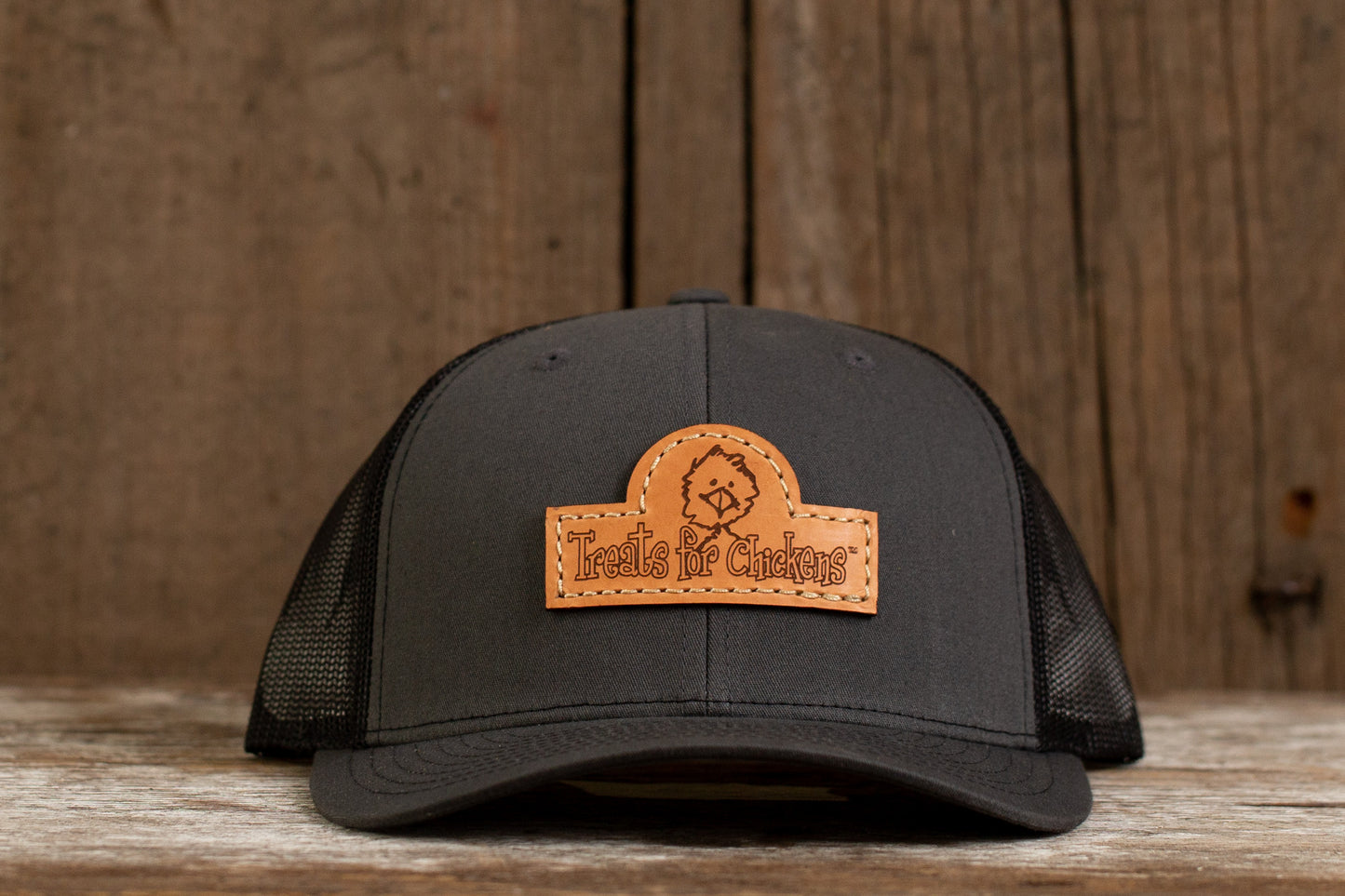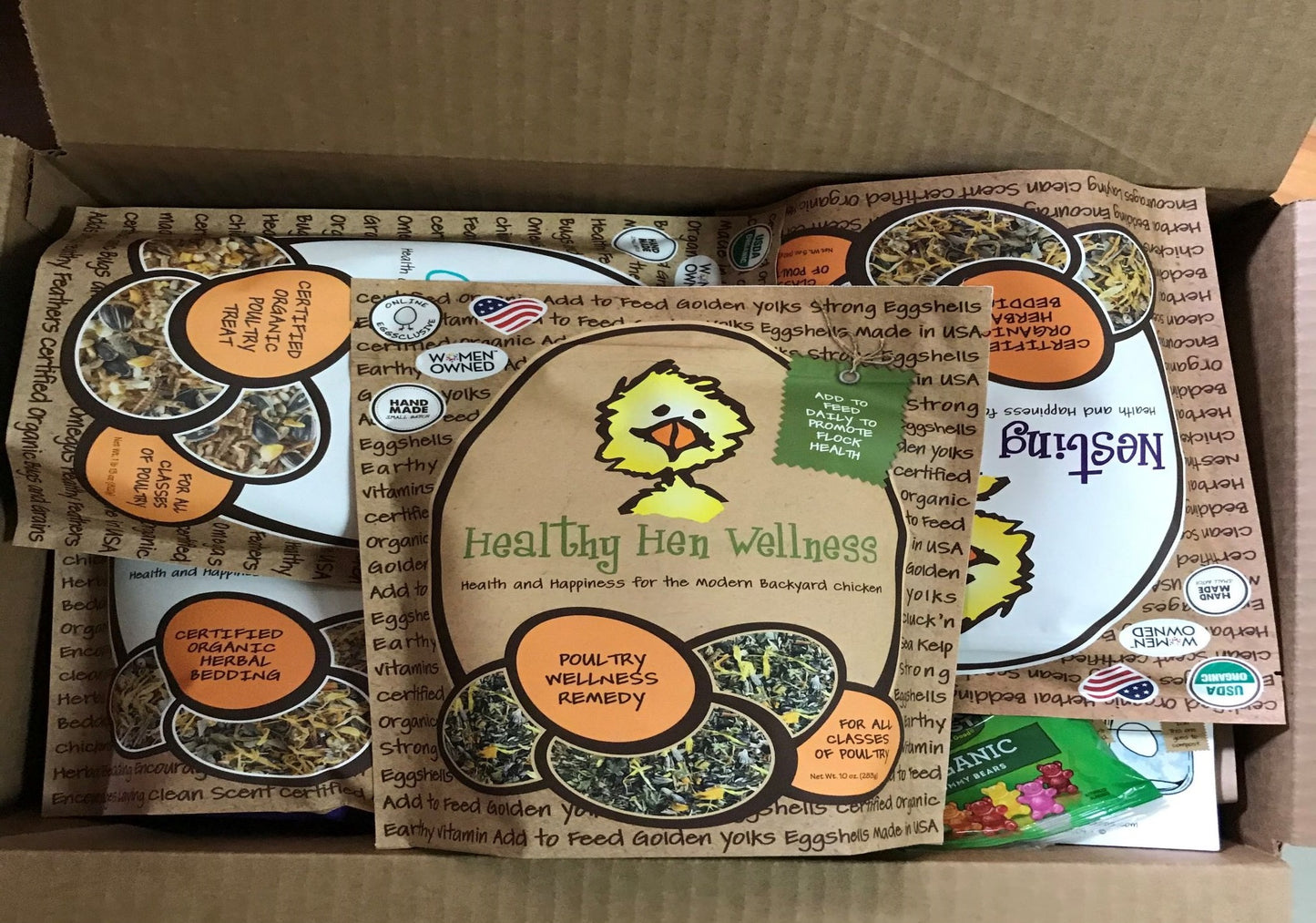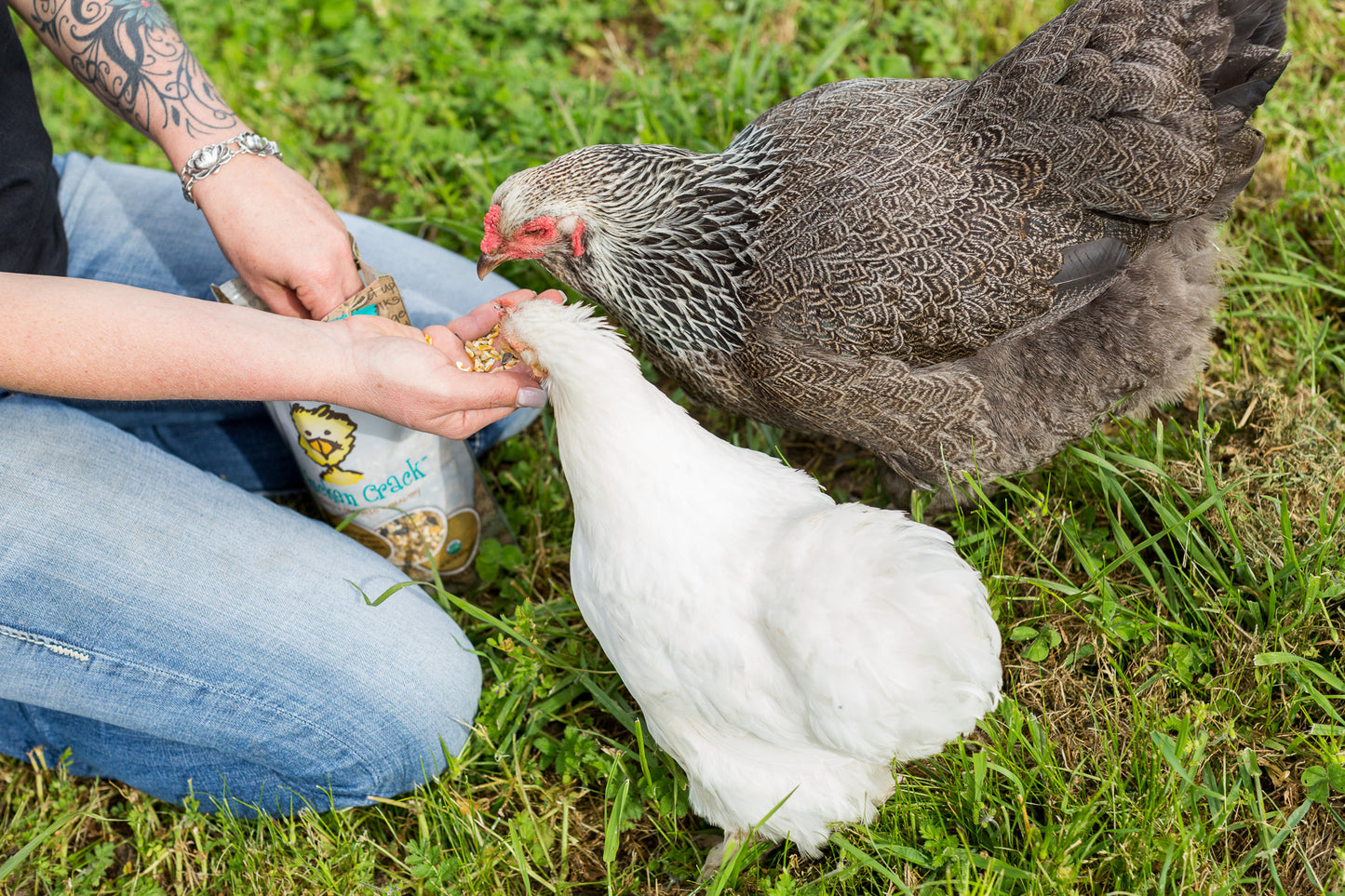 Chicken parenting questions
FAQ: General
Treats for Chickens hours of operation:

OFFICE: Mondays - Thursdays between 8:00 am - 4:00 pm PT.

SHIPPING/RECEIVING: Mondays - Thursdays between 9:00 am - 3:00 pm PT.
Shipping/Warehouse staff is not on site before 9:00 am or after 3:00 pm.
What payments are accepted on the website?

We accept all major credit cards and debit cards: Visa, Mastercard, and American Express. PayPal too. We do not accept payments by check, money order, cash, cryptocurrency, or IOUs.
Hey: help, I can't find what I'm looking for!

If you are having trouble locating a specific blog post or trying to find a product, please use the search bar (at the very top left-hand corner of the page). Still can't find it? Send us an email at info@treatsforchickens.com or at 707-664-8124 – we are happy to assist.
The page I want has a 404 error. Why?

If you are landing on a page with a 404 error this means that the page is outdated, no longer available or is under revision. Send us an email at info@treatsforchickens.com or at 707-664-8124 – we are happy to help you find what you are looking for.
Treats for Chickens Mission statement:

We sure do! Since 2009, Treats for Chickens has created premium chicken treats and tried-and-true problem solvers for the modern backyard chicken and their discerning fowl parents. We do this in serious style btw.

Every Treats for Chickens product is:

•      Blended right here in the USA in our Cotati, CA workshop

•      Created in artisan batches by a certified woman owned company

•       Made with ultra-premium, Non-GMO and USDA Certified Organic ingredients. No junk ingredients here!

•       The vast majority of our ingredients are sourced right here in the USA

At Treats for Chickens, we diligently maintain our reputation of high standards with regard to all areas of our products and our over-the-top customer service. Our products create a heartfelt experience between poultry parents and their flock members: this is our guiding motto of Health and Happiness for the Modern Backyard Chicken.
Treats for Chickens policy on medical advise:

In general, our website contains product usage information along with tips and guidance on the products we carry.

We do not give medical advice other than urge you to seek the advice of your veterinarian. Calling your veterinarian should always be the first thing you do if you suspect a problem. Keep in mind that chickens are good at masking health problems.
FAQ: Contact Us
How to Contact Treats for Chickens:

You can contact us a few ways:

If you have an order or shipment, please contact us at orders@treatsforchickens.com.

For general inquiries and information please email us at info@treatsforchickens.com or call us directly at 707-664-8124.

We do our best to get to everyone as quickly as we can – about 2 business days. We ask that you please check your Spam folder and remember to add our email address to your safe sender's list.

If you do not receive a response [either an automated notification or a message from TFC staff] within 2 business days, please call us during our business hours.
FAQ: Billing + Password
How to update my billing information and account?
I forgot my password. How do I update my password?

To reset your password please navigate to the Account login page, click "Forgot your password?". Wait a few minutes and then check your email. You should have received a reset link that allows you to create a new password. Please check your Spam folder, just in case.
FAQ: Products + Wholesale
Out of stock and seasonal product info:

Inventory changes seasonally, so please check back for store updates and sign up for our newsletter to keep current on seasonal product availability and updates.

Of note: occasionally, off-season products and Bundles are available in limited quantities to recurring Subscribe + Save customers.
Treats for Chickens Wholesale Information:

Yes, if you own a farm and feed store, pet supply, veterinary clinic, or any fowl-related brick-and-mortar business, after a review you may qualify for wholesale pricing.

Please contact us using the Wholesale + Distribution Opportunities Contact Form located here.


Once approved, you will be able to purchase directly from us.

FAQ: Ingredients + Usage
List of Non-GMO products at Treats for Chickens

Yes! Pullet Together, Cluck Here

Also important to know: all certified organic products are considered Non-GMO.
What Treats for Chickens treats include natural proteins/insects:
Does Treats for Chickens sell Vegan products?
Our recommendations for your picky flock members:

Sometimes if chickens aren't familiar with something, they do not eat it. Chicken parents have had success mixing our herbal blends with their flock's favorite treat, feed, or food. For instance: sprinkling Cluck'n Sea Kelp on kitchen scraps, watermelon or scattering it on the ground for future scratching and pecking.
Shelf life of Treats for Chickens products + treats:

Typically, there is a two-year shelf life on our products and products are best when used within 90 days of opening the package.

It is recommended that all products are stored in a cool, dry location and away from extreme heat and direct sunlight. Keep grains, seeds, herbs and powders away from moisture to reduce spoilage.
Recommended serving sizes for Treats for Chickens products + treats:

Introduce new treats and feeds gradually and give your flock access to grit to aid digestion. As for our treats, serve up a palm full (about to ¼ cup) per adult bird as a daily treat. When molting, add supplements to your feed. For chicks, give 1-2 pinches daily. Serve with chick grit and access to fresh water.
Treats for Chickens product usage tips:

You can hand feed treats, scatter them on the ground or incorporate them into a high quality layer feed. Herbs, supplements and blends can be added to feed as well.

Please note that our treats aren't meant to replace your flock's layer feed - they're a healthy snack for your flock.
Treats for Chickens for other birds too?

The question should be: what birds should you NOT feed these to?

Treats for Chickens' treats and supplements are natural products that are safe for all domestic fowl. All our products contain a variety of sized ingredients for any sized beak or bill. So have at it and share!
Where do mealworms REALLY come from?

Glad you asked!! We are making efforts to connect with a USA based grower of Certified Organic dried mealworms.

Currently, mealworms are from China. The USDA and CCOF inspect our products to assure their quality and safety.

You might also notice that mealworms vary in color and size. The way they are raised and dried depends on their size and color.
What's the difference between Mealworms v BSF:

Mealworms have been the go-to protein treat for chickens, but the black soldier fly larvae is a growing interest ingredient. Both should be fed in moderation as too much calcium and protein can lead to decreased egg laying and health problems.
FAQ: Misc.
Does Treats for Chickens sell live birds too?

That would be fun, but no, we do not sell any live chickens.

But, when you get them we know just the place for all their health and happiness needs/wants (hint hint).

To add to your flock or start new, check with your local farm and feed store, the Craigslist.org farm and garden section, look up for your local 4H groups and/or google hatcheries for the closest location as many ship right to your door.
Can I re-sell Treats for Chickens products?

Treats for Chickens offers wholesale purchasing with rights to reselling to farm and feed stores, pet supply, brick & mortar, and other eligible businesses.

Customers are not legally permitted to repackage or resell Treats for Chickens products on any eCommerce platform, including but not limited to Amazon, eBay, Walmart Marketplace, Google, Etsy, etc. Wholesale purchases must ship to a business address.

Altering the packaging of Treats for Chickens products (repackaging, concealing logos, etc.) is prohibited. Wholesale and Distribution privileges are eligible for review at any time and may be suspended or canceled at our discretion.
Can I share Treats for Chickens content and photos?

Yes, you can share our content (photos, blog posts, newsletter and sales announcements) by sharing the link to www.treatsforchickens.com website or Treats for Chickens social media handles: @treats4chickens on IG and @treatsforchickens on fb.

When doing so, please credit us with "Treats for Chickens with Dawn". Please bear in mind that all content is the sole property of Treats for Chickens™. We're a pretty tight knit group of folks and word travels fast so don't be a naughtly little chicken hawk, k?
Information about Hiring + Open Jobs at Treats for Chickens:

Please see our blog for hiring announcements.

Currently, photos are done in house. However, if you wish to expand your portfolio or feathered friend photography experience as a volunteer or unpaid intern, please reach out to the Treats for Chickens team through the Contact Us page for availability.

In our fast paced world it might seem natural to work with anyone who knocks and wants to make a quick buck "influencing" their community with our products. In general we don't work that way and prefer to establish relationships first. Call us old fashioned? Probably. Reach out via our Contact Us page and let's see if we are a good fit.
Not Seeing Your Question Above?
Please don't hesitate to reach out to Treats for Chickens - we are happy to assist you and your flock and make sure that you have a happy Treats for Chickens experience!
Call us: 707-664-8124
email us: info@treatsforchickens.com
Send us a note by clicking CONTACT US below
Let customers speak for us
Treats for Chickens is