The Nitty Gritty on Oyster Shell
TIPS FOR USE

Here's what you need to do: Fling, scatter or sprinkle this Oyster Shell supplement on the ground to encourage natural foraging, scratching and pecking! Supplements should be no more than 1-2% of their food volume. 

From Treats for Chickens experience, serve oyster shells supplement in a separate feeder/dish, mix into pellets, crumble, or mash with chicken feed.

Is Oyster Shell chick age appropriate? Provide Oyster Shell to pullets beginning at 18 weeks old.
INGREDIENTS MATTER

100% Oyster Shell

Treats for Chickens products do not contain artificial colors, flavors, or preservatives. Our natural ingredients are safe for handling, so reach in and scoop out as needed. 

What makes us unique? This Treats for Chickens product is hand-packaged in one location in Sonoma County, California, USA.
HOW TO STORE THIS PRODUCT

Best when used within 90 days of opening the resealable Oyster Shell package.

Store in a cool, dry location and avoid extreme heat and direct sunlight.

Do not expose Oyster Shell to moisture.

Not intended for medical use.

Not intended for "feed" or complete food source.

Not for human consumption.

Keep out of reach of children.
SAVINGS

Want to be a part of the Treats for Chickens community? Join our generous  Subscribe + Save program: Shop + Select = Save 20% on your order.

As a member of the Treats for Chickens Subscribe + Save program, you have first priority on product availability and shipments.

Plus, there's lots of flexibility and you can cancel at any time, skip a month if you have plenty, or edit your order depending on your preferences and the time of year. And, you'll have lots of options to add one-time things into your order like seasonal chick products, Molt Mender, bundles of our best sellers or a chicken toy to reduce boredom.

Join today and save 20%.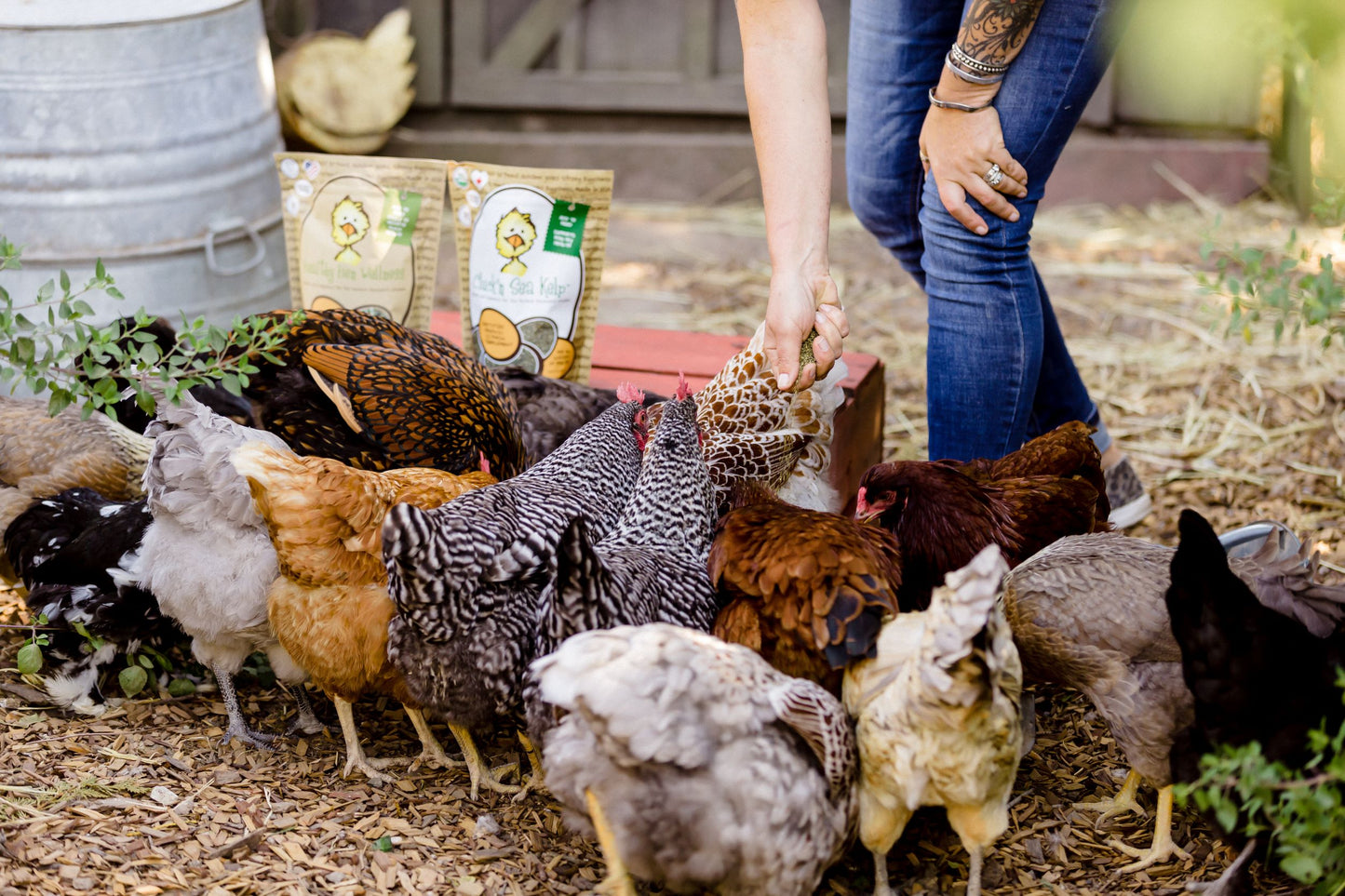 Can We Kelp You?
For more information on raising backyard chickens, planting the best plants in your run and around the coop, or mysterious egg laying (or hens not laying eggs), visit Treats for Chickens' The Blog.
Reviews From Pet Chicken Parents
As always, thank you for sharing! Treats for Chickens' chicken parents rely on your honest feedback. -Dawn 🧡
Duck lovers rejoice!
Absolutely love this product for my ducks! I have battled with soft shelled eggs in my Pekin ducks for quite sometime. Treats for chickens came across my Instagram account 3 years ago, I took a shot and landed on gold! Since using this product my soft shelled eggs have dropped dramatically. They love it! This is my go to product, fast delivery, and let me tell you..the owner is the fluffy butt Queen of all things chickens (and a majorly kick a$$ human BTW) but she really nailed it with this product. Her products are VERY versatile! I highly recommend this product for your feathered friends! Plus the hubby loves the free gummy bears that come with our order! Win win in my opinion!
Awesome product!
I definitely recommend this product as a calcium source. My chickens love it, from my bantams to big girls, and it helps to produce some strong and healthy shells.
Only the best!
My girls definately prefer the flaked oyster shell - - the won't touch anything else. They generally have nice strong shells but I do like to make sure it stays that way with a supplement of the flakes. Will be ordering again soon - there is no other product on the market that compares.
Thanks!.
Flaked Oyster Shell
New user with new layers. My chickens definitely prefer the flakes over the rock type shells. I've been mixing them and they pick the flakes out! I put the oyster flakes on subscription delivery so they will always have them. Thanks Dawn!
Flaked oyster shell
First time I have ordered this oyster shell. My chickens only eat the flaked, not the rocks you find in the stores. My chickens love this flaked oyster shell. I will be ordering this again!