The Nitty Gritty on New Chicks in Town™
TIPS FOR USE

Here's what you need to do: Add New Chicks in Town to the chick brooder [or add to feed if no longer in the brooder] every other day. Repeat often and with regular cleanings. Treats For Chickens TIP: In order to provide the best start for your new chicks, a dry brooder, fresh clean water and grit are essential for vitality, digestion, and to reduce the spread of disease. 

How much New Chicks in Town? From the Treats for Chickens experience, here is our breakdown.

For 1-5 baby chicks add 2 teaspoons to a 1/4 cup to brooder every other day.
For 6-15 baby chicks: 1/2 cup every other day.
Going big with 15+ chicks: 3/4 - 1 cup every other day.

Once you have transitioned chicks out of the brooder sprinkle New Chicks in Town on top of feed or in the run to encourage natural foraging, scratching, and pecking. And your flock will take care of the rest.

Is New Chicks in Town? chick age appropriate? Of course! Start healthy eating habits at a young age. Mature birds can also partake in the goodies!

General Pro-Chick Tip: be sure that baby chicks under two weeks of age always have access to grit so they can properly digest their food.
INGREDIENTS MATTER

Organic Comfrey Leaf, Organic Rosehip, Organic Aniseed, Organic Fenugreek Seeds, Organic Echinacea, Organic Garlic, Organic Dandelion Leaf, Organic Peppermint, Organic Lavender, Organic Thyme, Organic Calendula (pot marigold) and Dookashi (Select Wheat Bran, Certified Organic Probiotic, Blackstrap Molasses, Purified Water). 

Treats for Chickens products do not contain artificial colors, flavors, or preservatives. Our natural ingredients are safe for handling, so reach in and scoop out as needed. 

What makes us unique? Treats for Chickens products are proudly mixed and made locally in one location in Sonoma County, California, USA.
HOW TO STORE THIS PRODUCT

Best when used within 90 days of opening the resealable New Chicks in Town package.

Store in a cool, dry location and avoid extreme heat and direct sunlight.

Do not expose New Chicks in Town to moisture.

Not intended for medical use.

Not intended for "feed" or complete food source.

Not for human consumption.

Keep out of reach of children.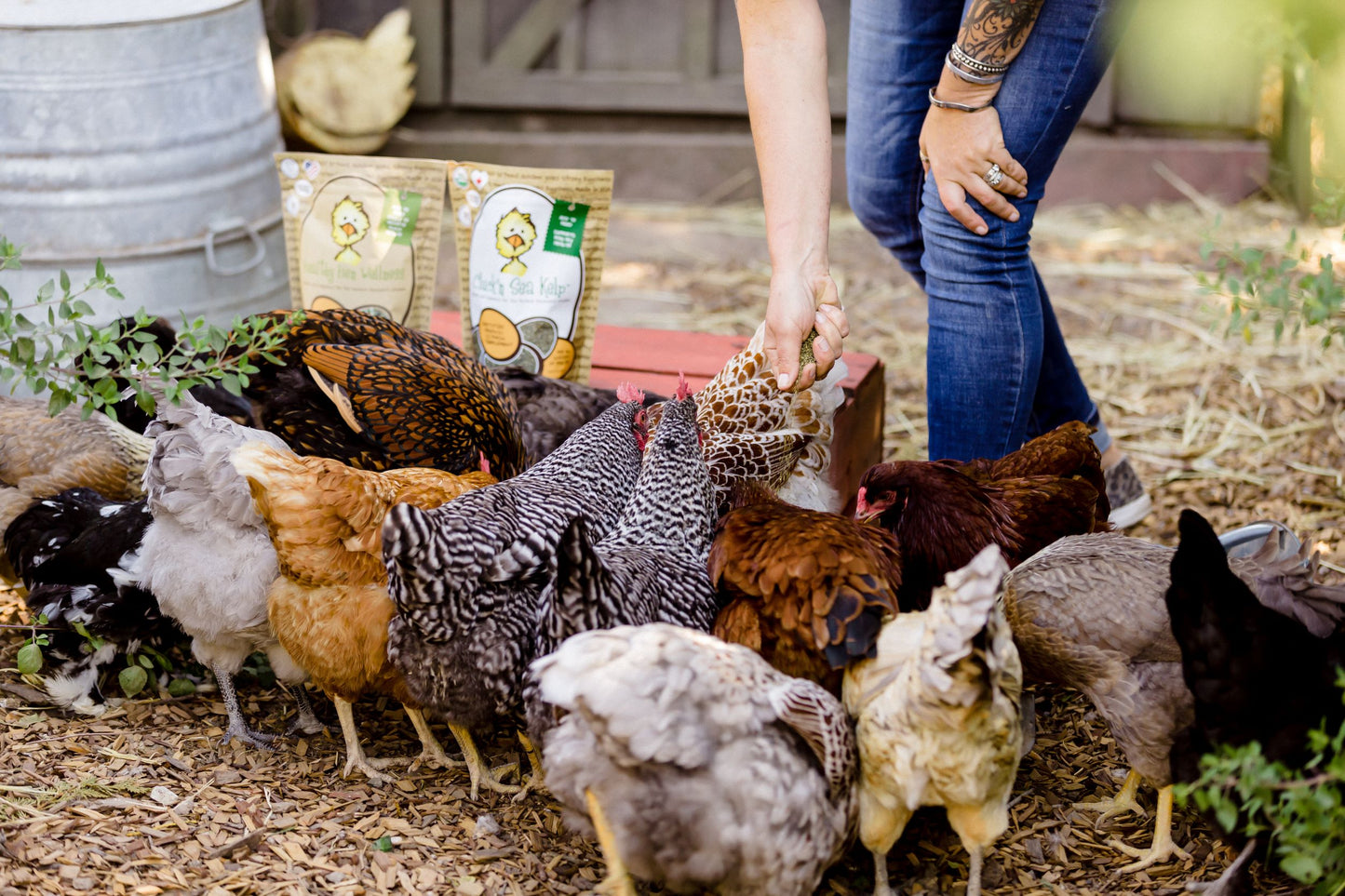 Can We Kelp You?
For more information on raising backyard chickens, planting the best plants in your run and around the coop, or mysterious egg laying (or hens not laying eggs), visit Treats for Chickens' The Blog.
Reviews From Pet Chicken Parents
As always, thank you for sharing! Treats for Chickens' chicken parents rely on your honest feedback. -Dawn 🧡
The girls love it!
The chicks get excited when I sprinkle "New Chicks In Town" in and around their food. Their foraging and scratching kicks in! I also feel good knowing they're getting herbs and flowers in their diet and the brooder is getting a smell refresh. Great product!
SMELL reducer OMG!!!
When I read this product could help reduce the smell of a brooder I was skeptical but am so glad we tried it. Holy heck, ya'll! The chicks are so happy and my nose burns less walking by the brooder of 43 chicks!!!
Great product!
We got 3 chicks a few weeks ago and the herbal New Chicks in Town is amazing! Keeps their brooder smelling fresh and clean and they love to forage through the shavings to eat any pieces they can find! I definitely will be ordering more products!
Great Blend
Smells super good and my chicks love it!!
My chicks love it
When I added this to their food the all pushed themselves in to get some so fun to watch