The Nitty Gritty on Poultry Protector Enzymes
TIPS FOR USE

Here's what you need to do: 

Poultry Protector requires dilution prior to use. Enzymes' contents are highly concentrated.

Remove bedding material, spray the entire habitat (top, side, and surrounding grounds) with a fine mist every other day during the first week and once a week thereafter.

Replace bedding with new material before introducing flock. Repeat this process periodically to maintain your flock's appropriate cleanliness.

Poultry Protector states effectiveness on plastic, galvanized and heated drinkers that attract mineral deposits that lessen their lifespan.

 *Please Note, During cold Winter months, please do not bathe your chickens with Poultry Protector but rather use them to clean water fountains, coops, barns, stalls, bird feeders, roosts, nesting boxes, etc. Allow to dry thoroughly.

**In case of skin or eye contact, rinse with water. Should irritation occur, seek medical attention. Do not take it internally. Buyer assumes all responsibility when not used as directed.

Treats for Chickens recommends reading the directions carefully on Poultry Protector CareFree Enzymes's package. 

Is Poultry Protector CareFree Enzymeschick age appropriate? Poultry Protector states do not use enzymes on birds less than 10 days of age, extremely old, or debilitated. Treats for Chickens advises to consult a veterinarian.
INGREDIENTS MATTER

INGREDIENTS: Please Poultry Protector CareFree Enzymes package for ingredients.
HOW TO STORE THIS PRODUCT

Store in a cool, dry location and avoid extreme heat and direct sunlight.

Do not expose Poultry Protector CareFree Enzymes to moisture.

Store in its original container.

Keep away from strong odors.

Not intended for medical use.

Not for human consumption.

Keep out of reach of children.

Please recycle the Poultry Protector container after use if your city or county allows.
SAVINGS

Want to be a part of the Treats for Chickens community? Join our generous  Subscribe + Save program: Shop + Select = Save 20% on your order.

As a member of the Treats for Chickens Subscribe + Save program, you have first priority on product availability and shipments.

Plus, there's lots of flexibility and you can cancel at any time, skip a month if you have plenty, or edit your order depending on your preferences and the time of year. And, you'll have lots of options to add one-time things into your order like seasonal chick products, Molt Mender, bundles of our best sellers or a chicken toy to reduce boredom.

Join today and save 20%.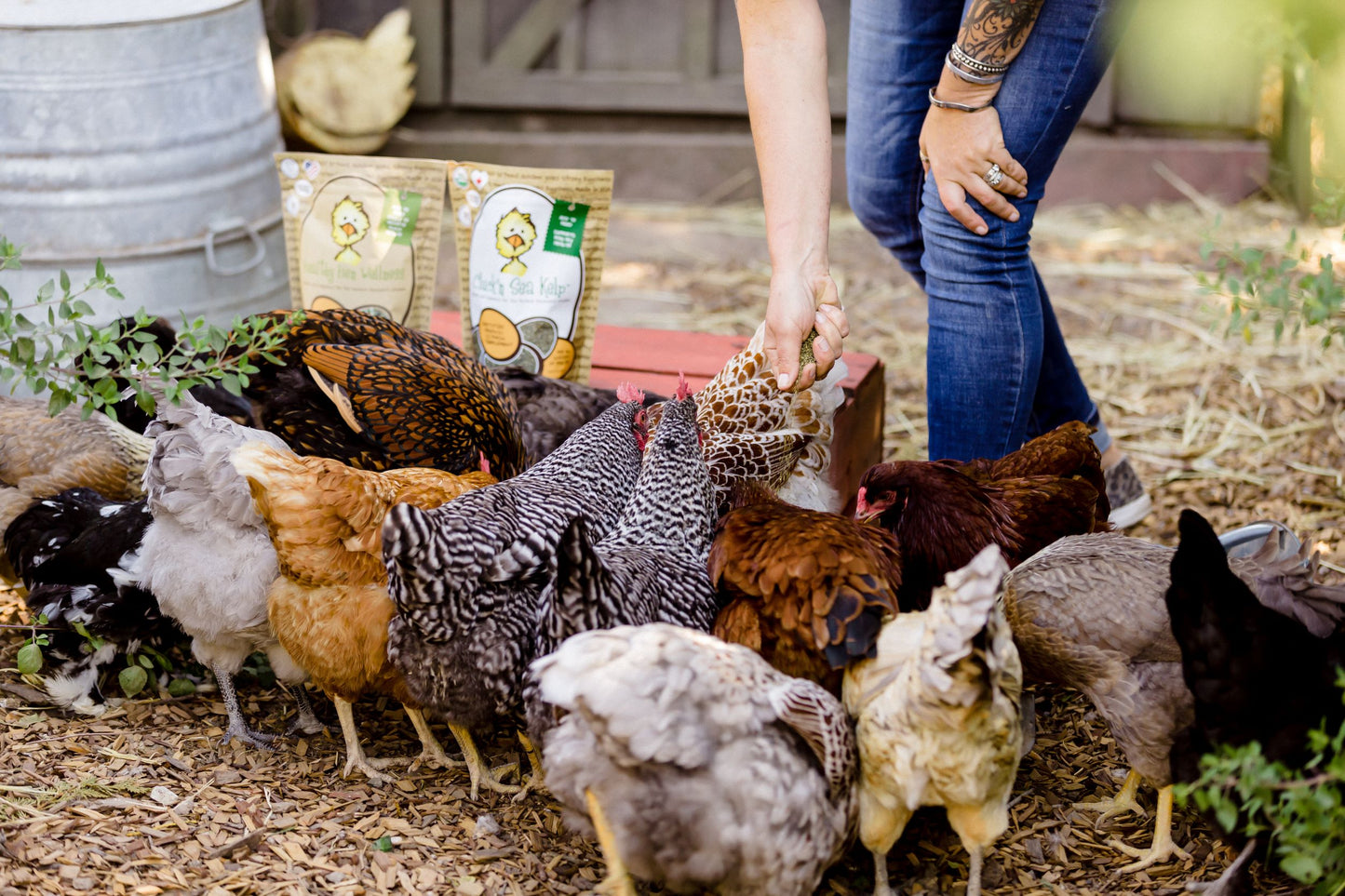 Can We Kelp You?
For more information on raising backyard chickens, planting the best plants in your run and around the coop, or mysterious egg laying (or hens not laying eggs), visit Treats for Chickens' The Blog.
Reviews From Pet Chicken Parents
As always, thank you for sharing! Treats for Chickens' chicken parents rely on your honest feedback. -Dawn 🧡
Works great to clean dirty butts!
Guess what--chicken butt! Anyway I use this in summer (when it is warm) to clean my girls. They hate the dip, but I have not had problems with parasites.
works great
This works well on the girls who just barely tolerate it! Helps to get that stuck on butt feather poops!
Great Natural Peat control!
This product is AMAZING! I love to use as a dip during the hot summer months to cool our chickens but also control those pests. The solution kills bugs on contact! 🙌🏻
Thank you for make such wonderful, natural products!
Helps keep my gals healthy
This is my second year using this product as each spring/ summer my 16 chickens and 1 turkey develop lice. I hate the idea of harsh chemicals on them, and much prefer how natural this product is. We dilute it down per instructions and give them each a bath about once a month (inside a tall garbage can, you get less wet that way and worked better than spraying them down with a squirt bottle). 3 bottles lasted me the whole summer last year. Starting earlier this year. I notice an increase in egg production after each bath. (Also do the ducks living with them just in case)
And treatsforchickens delivers it quickly with a treat for my human kids as well. 😊