The Nitty Gritty on Treats Roller
TIPS FOR USE

Scoop treats into the Ware Chicken Treat Roller toy, snap it shut, place it on the ground and let your poultry party on. As chickens chase and peck at the roller, treats are released. And of course, your flock will take care of the rest. 


Fill the dispenser with the recommended treats above ( certified organic Chicken Crack, mixed with organic ingredients Chick Chick, and non-grains pro-protein Mealworm Delight): the size of the dispenser slats/holes does not allow large in-shell sunflower seeds, standard feed pellets and other large grains from escaping.

Please, Keep Out of Reach of Children and Furry Pets
HOW TO CARE FOR THIS PRODUCT

With a bamboo toothbrush, dry bush the treats toy. After cleaning off the debris, prepare warm water with less than a cap full of white vinegar (diluted) and a light sprinkle of baking soda.

Dip the bamboo toothbrush into the mixture, and brush the chicken treats toy. Then rinse with warm water and let the chicken toy dry thoroughly before refilling with Treats for Chickens treats.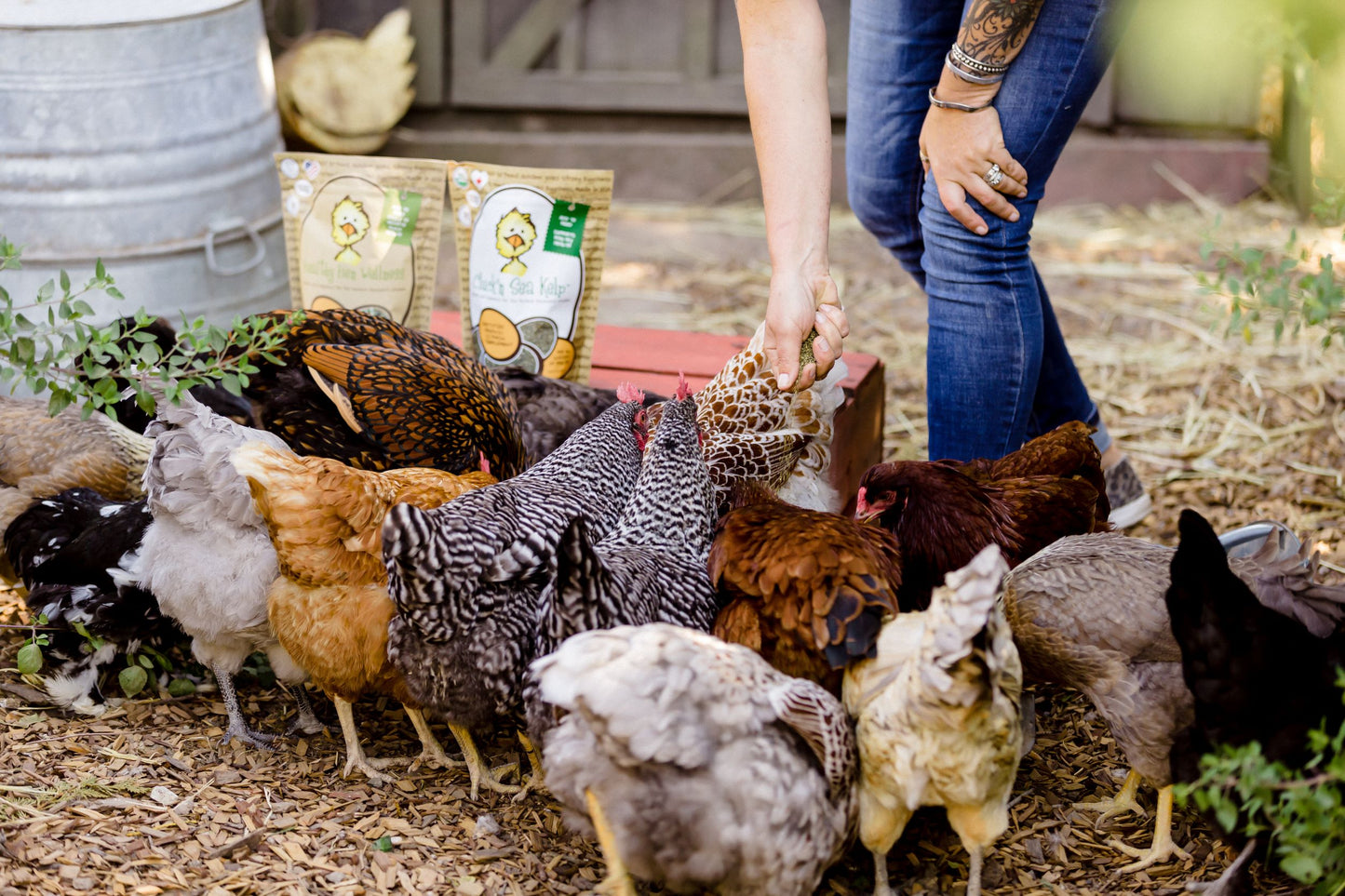 Can We Kelp You?
For more information on raising backyard chickens, planting the best plants in your run and around the coop, or mysterious egg laying (or hens not laying eggs), visit Treats for Chickens' The Blog.
Reviews From Pet Chicken Parents
As always, thank you for sharing! Treats for Chickens' chicken parents rely on your honest feedback. -Dawn 🧡
Fun for chicks
My chickens took a little to figure it out but once they did they absolutely loved it. They only thing is the hoses aren't big enough for some larger seeds (like sunflower seeds) but that's it's only down fall.
Great for enrichment
I wanted options for my three week old chicks and this was perfect! They were absolutely terrified at first but then I sprinkled chick chick treat over it and they soon discovered if it moves they get more chick chick treats. So they love it.
Very entertaining to watch them figure things out.
Chickens love this!
I've had this roller for a few weeks now and does wonders to keep my two hens occupied in the winter. Cap screws off for easy filling and cleaning, and the hens learned how to use this in just a few minutes -- amazing! It's quite cute to watch them roll it around to get mealworms to come out. Whereas giving them a bowl of treats occupies them for a couple minutes, this occupies them for hours. Definitely worth buying, especially for hens cooped up in a run all year or for winter entertainment.