The Nitty Gritty on Food Grade Diatomaceous Earth
TIPS FOR USE

So, here's what you'll get: Using a Pest Pistol, dust one cup of Diatomaceous Earth over your coop and run. Or a good palm full and chuck it at needed areas. For additional preventative measures, lightly dust your chicken under its wings, breast area, and bottom to remove lice, mites, and fleas. A little goes a long way here! You can even add up to 2% to your flock's feed for natural internal cleansing.

Here's what you need to do: Add 1 or 2 scoops (Dawn uses a large wooden spoon btw) in the needed areas (nesting boxes to the run) or to an already determined chicken dusting area (aka "holes") and your flock will take care of the rest. One or two scoops of Diatomaceous Earth per 3-4 hens + plain old dirt will do just great. Sprinkle Diatomaceous Earth in your flock's dusting area at least weekly.

Is Diatomaceous Earth chick age appropriate? Sure is. Start healthy hygiene habits at a young age, even without a mom hen on standby. Sprinkle a scoop on top of dirt or into a small tray, chicks will dive in to start dusting: cleaning and preening. It's adorable to watch so keep your camera handy.

General Pro-Chick Tip: be sure that baby chicks under two weeks of age always have access to grit so they can properly digest their food.
INGREDIENTS MATTER

100% Food Grade Diatomaceous Earth (Fossil Shell Flour)*

*Note: Treats for Chickens only carries food grade Diatomaceous Earth. The industrial grade version sold at pool supply stores and at some pet stores is harmful. Please read the labels carefully.

Treats for Chickens products do not contain artificial colors, flavors, fillers, perfumes, or preservatives. Our natural ingredients are safe for handling, so reach in and scoop out as needed.

What makes us unique? This Treats for Chickens product is hand-packaged in one location in Sonoma County, California, USA.
HOW TO STORE THIS PRODUCT

Best when used within 90 days of opening the resealable Food Grade Diatomaceous Earth package.

Store in a cool, dry location and avoid extreme heat and direct sunlight.

Do not expose Food Grade Diatomaceous Earth to moisture.

Not intended for medical use.

Not intended for "feed" or complete food source.

Not for human consumption.

Keep out of reach of children.
SAVINGS

Want to be a part of the Treats for Chickens community? Join our generous  Subscribe + Save program: Shop + Select = Save 20% on your order.

As a member of the Treats for Chickens Subscribe + Save program, you have first priority on product availability and shipments.

Plus, there's lots of flexibility and you can cancel at any time, skip a month if you have plenty, or edit your order depending on your preferences and the time of year. And, you'll have lots of options to add one-time things into your order like seasonal chick products, Molt Mender, bundles of our best sellers or a chicken toy to reduce boredom.

Join today and save 20%.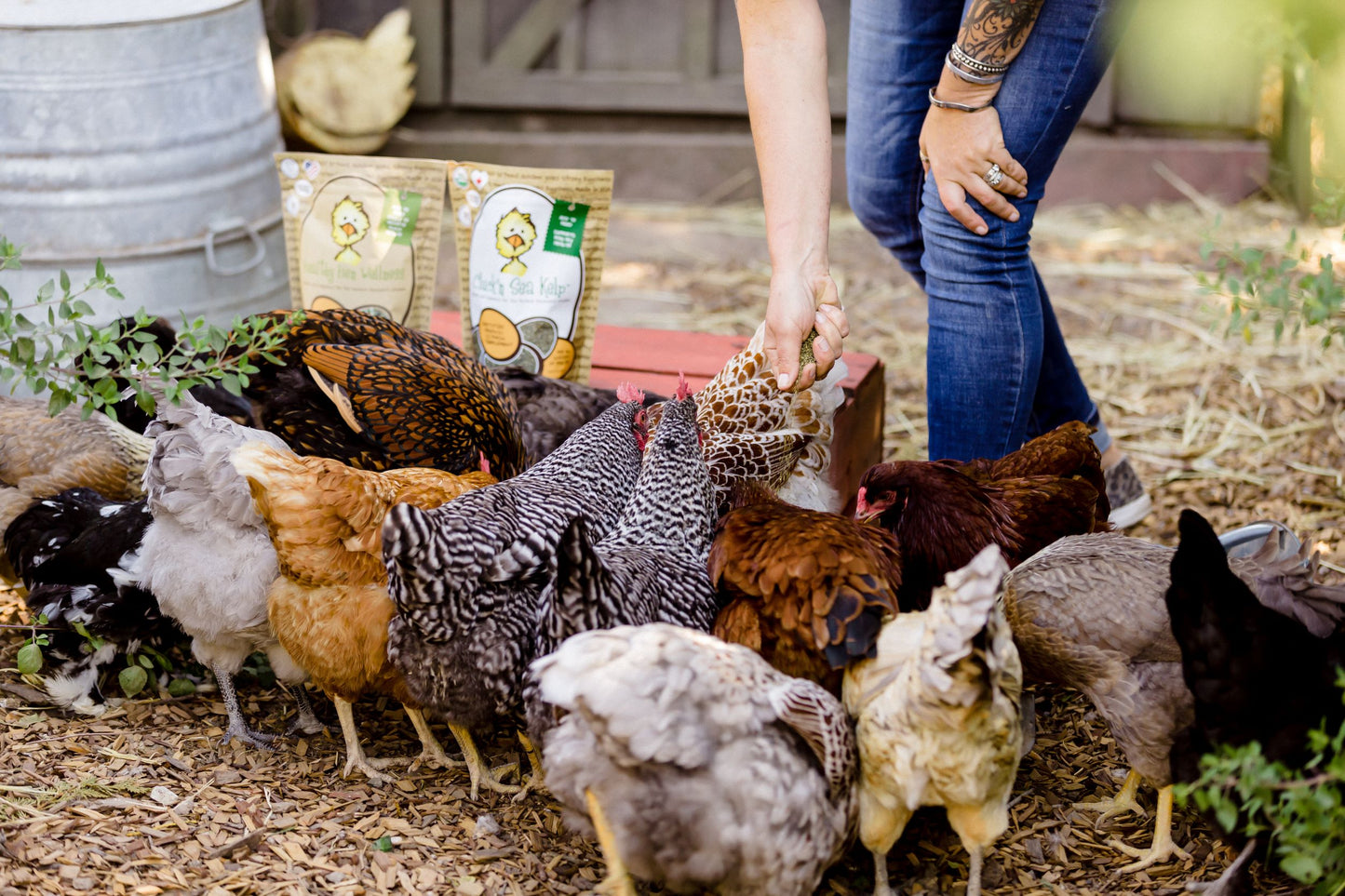 Can We Kelp You?
For more information on raising backyard chickens, planting the best plants in your run and around the coop, or mysterious egg laying (or hens not laying eggs), visit Treats for Chickens' The Blog.
Reviews From Pet Chicken Parents
As always, thank you for sharing! Treats for Chickens' chicken parents rely on your honest feedback. -Dawn 🧡
Perfect for Keeping Coop Fresh!!
I was introduced to DE early this year and never thought about it for use in our coops until I discovered treats for chickens. Can no stand the bugs especially during the summer and love different ways to keep things as clean as possible for me and the chickens! We have 2 coops, recently changed from bedding to sand and love using the DE in the coops to keep things fresh and clean. Since switching to sand and using DE, I have noticed a big drop in the number of bugs hanging out in our coops! Will forever buy!
Love it!
Great quality! Working so far!
Great products!!
I loved the nesting box herbs!!! My girls went crazy the next morning- all 4 boxes (including their least favorite) were occupied! They also LOVED the chicken treats I gave them!
Happy chicks
My girls Tammy And Loretta love all the products. Thank you.
Great Product
I recently received my Diatomaceous Earth (2lb Bucket). It was at a great price for the amount. I was able to spread it around the whole coop with just 1lb of it. This stuff is great for keeping out bugs from your coop and birds at the same time. Thanks Treats For Chickens. I will definitely be back for more.