The Nitty Gritty on Molt Mender™
TIPS FOR USE

Here's what you need to do: Fling, scatter or sprinkle supplement on the ground to encourage natural foraging, scratching and pecking! Supplements should be no more than 1-2% of their food volume. Or if you follow me on Instagram, then you've [hopefully] seen my Molt Mender recipe on my stories.

 It's so easy now: simply mix and mash of all of these ingredients (Molt Mender, a few eggs, and raw meat) together and separate them into meatball-sized portions. Serve one ball/patty for every three chickens occasionally. Have extra on hand: freeze the extra portions and thaw before serving. And your flock will take care of the rest.

Plain, fresh raw meat is best. I know. It does sound sooo gross, but your feathered friends love it! The protein in raw meat helps with the molting and regeneration of feather growth.

Bhutt if that's too icky or if you are vegetarian, you can remove the meat or add Molt Mender to feed instead of making the patties.  

But Treats for Chickens PRO TIP: I store mine in the freezer in tinfoil with FOR THE CHICKENS scribbled across the top [in marker pen] to keep my family from thinking these are human cookies.

Is Molt Mender chick age appropriate? Chickens typically go through their first adult molt at approximately 18 months old. Please wait until your chicken's first molting experience. Then offer Molt Mender to them. 
INGREDIENTS MATTER

Oyster Shell, Organic Rolled Oats, Organic Buckwheat, Organic Rye Berries, Organic Cracked Corn, Organic Kelp Meal, Organic Rosehip, Organic Funegreek Seeds, Organic Aniseed, Organic Garlic, Organic Sunflower Seeds, Dried Mealworms*, Organic Air Dried Alfalfa, Organic Chamomile, Organic Calendula (marigold petals).

*Note: Currently, dried mealworms are a product of China.

**Note 9/8/2022: Oyster Shell is back! No limestone. 

Treats for Chickens products do not contain artificial colors, flavors, or preservatives. Our natural ingredients are safe for handling, so reach in and scoop out as needed. 

What makes us unique? Treats for Chickens products are proudly mixed and made locally in one location in Sonoma County, California, USA.
HOW TO STORE THIS PRODUCT

Best when used within 90 days of opening the resealable Molt Mender package.

Store in a cool, dry location and avoid extreme heat and direct sunlight.

Do not expose Molt Mender to moisture.

Not intended for medical use.

Not intended for "feed" or complete food source.

Not for human consumption.

Keep out of reach of children.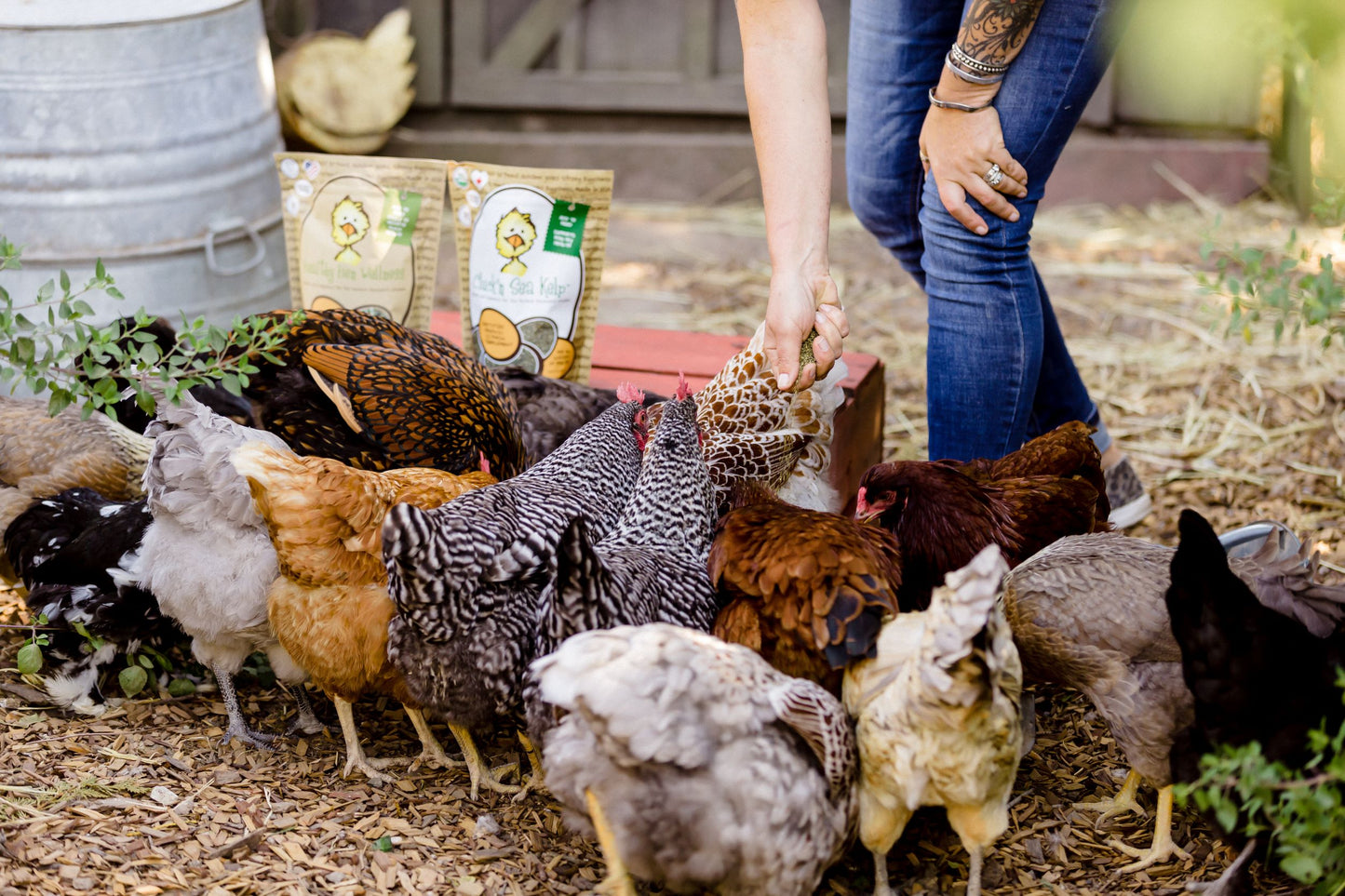 Can We Kelp You?
For more information on raising backyard chickens, planting the best plants in your run and around the coop, or mysterious egg laying (or hens not laying eggs), visit Treats for Chickens' The Blog.
Reviews From Pet Chicken Parents
As always, thank you for sharing! Treats for Chickens' chicken parents rely on your honest feedback. -Dawn 🧡
Special Surprise
My chickens are four years old and picky eaters unless it's earth worms. They were incredibly interested in Molt Mender and ate it.
Happy, Happy ladies....
My girls love this Molt Mender! They get some every day with their breakfast - we add a little cayenne to it as well - and they are happier than ever. The quality of their eggs is wonderful and every morning we have a lot of contented chicken chatter. Wonderful product - I can't recommend it enough.
Sue
It's glorious for my girls!
I have about 60 hens and 8 roosters, some more than others looking a bit haggard. I like to give my ladies and Roos Molt Mender by the handful and sometimes I'll take Dawn's advice to make the meat patties. No matter what form the Molt Mender is in, they devour it all! I gotta say, with all that organic goodness packed in to that glorious mix, I swear it gives those girls a little pep in their step! I just need it to come in a much bigger bag! Thank you Dawn for ALL your great products!
Help my Birds
My chickens made it through their molt with grace thanks to Molt Mender.
Chickens Love It
I have 12 Red Star hens, 1 older Black Astrolope, 1 older Americana, a Silkie rooster, and 2 old female ducks. They all love Molt Mender and it really helps.