The Nitty Gritty on Double Boredom Bundle
TIPS FOR USE

Here's what you need to do:

Chicken Crack

Fling, scatter or sprinkle treats on the ground to encourage natural foraging, scratching, and pecking! Or hand feed your feathered friends to engage in friendship and trust. Chicken Crack has been known to teach chickens tricks, stimulate bonding + interaction, and even get the unruliest chickens back into the coop when it's time.

Here's what you need to do: Treats for Chickens agrees that healthy chicken treats can be fed in moderation along with a complete chicken feed. Treats should be no more than 10% of your flock's diet which looks like a palm full of Chicken Crack, per chicken, per day. A little less in the Summer months and a tad more for the sake of useful heat generating calories during Winter months.

Is Chicken Crack chick age appropriate? Sure is. Start healthy eating habits at a young age. Bonus, a mix of sizes offers easy-to-eat bits for chicks and pullets, as well as larger cracked and whole grains and seeds for older, more mature birds. Chicken Crack is for all ages.

General Pro-Chick Tip: be sure that baby chicks under two weeks of age always have access to grit so they can properly digest their food.

 

Lixit Treats Chicken Toy

Here's what you need to do: Scoop treats into the Lixit Chicken Toy, snap it shut, place it on the ground and let your chickens go to town. As poultry chase and peck at the ball, treats are released. And of course, your flock will take care of the rest. 

How to clean this chicken toy?

With a bamboo toothbrush, dry bush the treats toy. After cleaning off the debris, prepare warm water with less than a cap full of white vinegar (diluted) and a light sprinkle of baking soda. Dip the bamboo toothbrush into the mixture, and brush the chicken treats toy. Then rinse with warm water and let the chicken toy dry thoroughly before refilling with Treats for Chickens treats. 
INGREDIENTS MATTER

Certified Organic Chicken Crack®

INGREDIENTS: Organic Cracked Corn, Organic Rye, Organic Barley, Organic Buckwheat, Organic Sunflower Seeds, Dried Mealworms*, Organic Flax Seed, Dried River Shrimp.

*Note: Currently, dried mealworms are a product of China. 

Treats for Chickens products do not contain artificial colors, flavors, or preservatives. Our natural ingredients are safe for handling, so reach in and scoop out as needed. 

What makes us unique? Treats for Chickens products are proudly mixed and made locally in one location in Sonoma County, California, USA.

Lixit Treat Toy is made of plastic.
HOW TO STORE THIS PRODUCT

Best when used within 90 days of opening the resealable Chicken Crack package.

Store in a cool, dry location and avoid extreme heat and direct sunlight.

Do not expose Chicken Crack to moisture.

Not intended for medical use.

Not intended for "feed" or complete food source.

Not for human consumption.

Keep out of reach of children.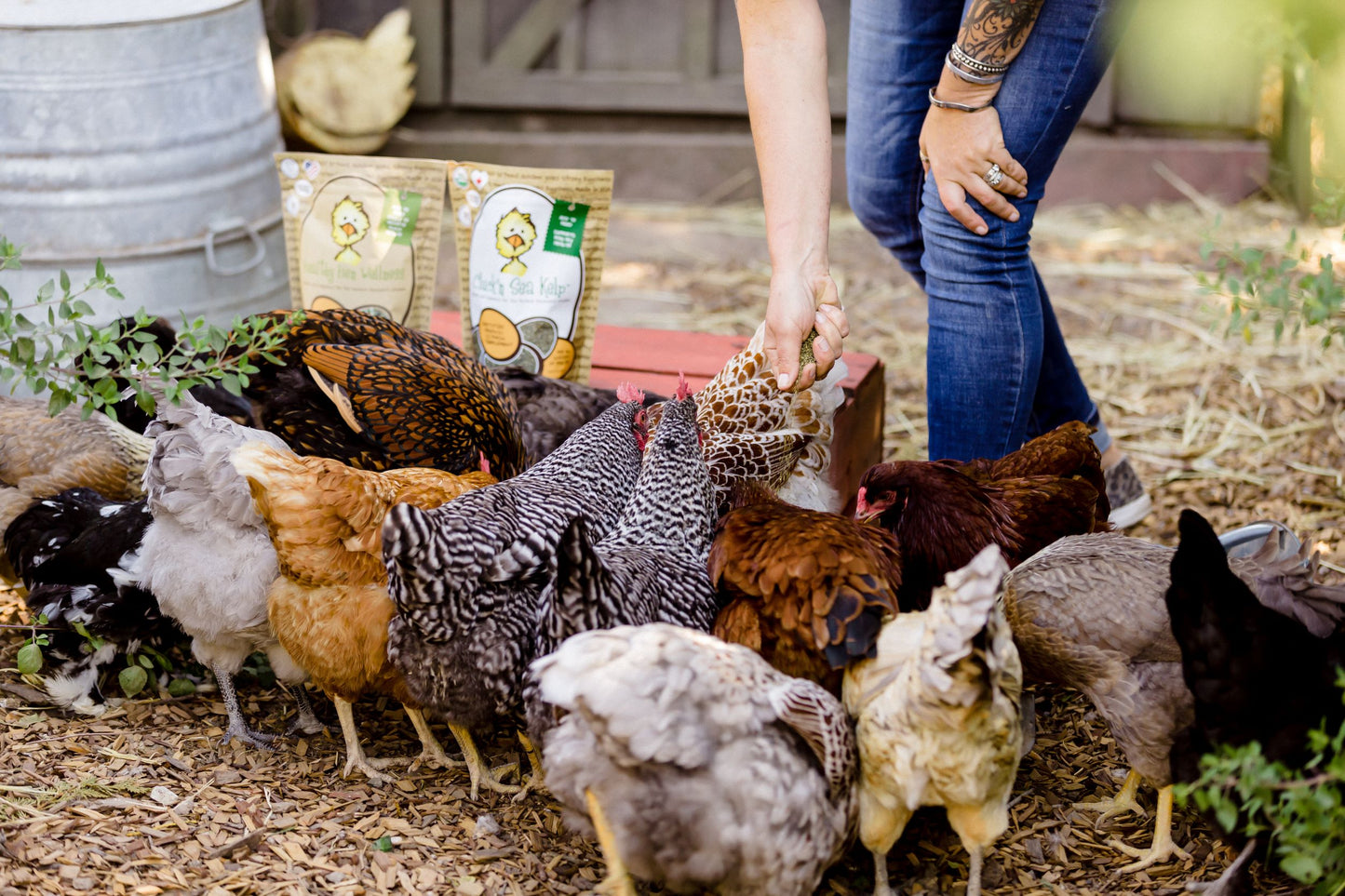 Can We Kelp You?
For more information on raising backyard chickens, planting the best plants in your run and around the coop, or mysterious egg laying (or hens not laying eggs), visit Treats for Chickens' The Blog.
Reviews From Pet Chicken Parents
As always, thank you for sharing! Treats for Chickens' chicken parents rely on your honest feedback. -Dawn 🧡
Loving the seed balls
They empty the balls when I am not looking. I come back and they're empty!
My girls love it
My girls love the treat ball filled with Chicken Crack! Gives them something to do when they are in their run. Great boredom buster!
good price and funny name
I like that the price was discounted and the name of this is funny. I bought it for my wife and she laughed.
We love these new products and will buy again.
Toys and Treats
My chickens were spooked at first but learned quickly how to navigate the toy and spent hours pecking it. Brilliant idea and I live that the treats are organic and made by a small business
It's ok.
I was happy to find this website, i thought it was wonderful to have so many wonderful choices that are organic for my chickens. Also, I was really excited for my chickens to experience the double boredom bundle, but they don't care about the balls at all. I thought they would love the chicken crack, but they only picked out the mealworms. I did like some of the samples I received for coop.