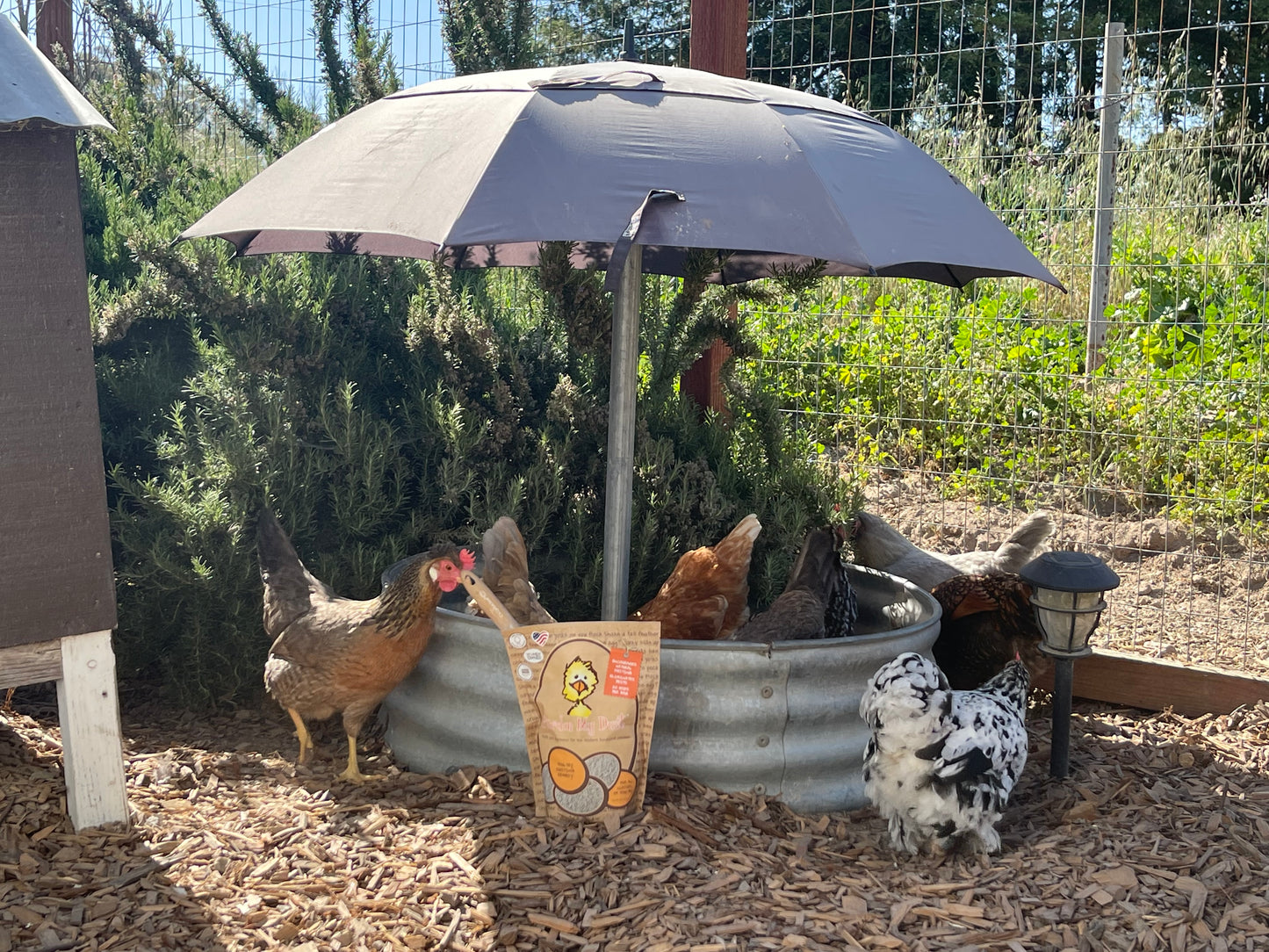 Hi it's Dawn at Treats for Chickens. 
Fun, warm days with my chickens at my feet is always a good time, right? When I'm outside more I tend to get a lot of questions about the dusting space for my chickens and the gigantic umbrella. So, I thought it would be helpful to put together the details so you can make a dusting station too. 

Here's the thing. 
Your backyard chickens need to dust year around. Like every day. Even more so in the Winter when the air is crisp, freezing, wet and just damn cold. 

You know how your skin gets dry and wind whipped?

They get it too. Even with all their feathers. Ahnnnnnd: chickens in Winter are more prone to pests (mites, lice, etc). But, this does not mean that Summer is any easier on them with regard to the bugs that bug our birds. 

Because backyard chickens rely on dusting in dirt (or dirt-like-matter) as their main way for keeping clean (in addition to preening), it's even more crucial to provide an area for them to do so when they can't do it on their own: frozen ground, no access to dirt, snow-on-everything. Because, you see: backyard chickens also don't like to dust in the mud.
This is what you need to do.
Find a container. I use a galvanized fire ring that I purchased a few years ago.  Maybe you like a different design? Grab one at your local hardware or gardening store when your on your mission for the items below.  You can also use a metal tub or half of a wine barrel, and if plastic use a non-toxic plastic kiddie pool, shallow bin, big flower pot, or deep tray/container/bin.
Purchase your umbrella here. Make sure you order the 62 inch automatic open golf umbrella.  There are a few colors/patters. They do have smaller sizes if your space requires a smaller footprint.
You want all your things to arrive about the same time so order Treats for Chickens' Pardon My Dust beforehand to get yourself prep. Head to the hardware store or landscape supply and purchase two things:

1) Enough bags of compost/potting soil or playground sand (NO Vermiculite or Perlite in the mix (example shown below)) to fill your tub, fire ring, bucket or bin half-way. Dirt and/or shavings will do just fine too.
2) Buy a metal (or plastic/pvc) pole to hold your umbrella pole stationary and upright.

The opening needs to be 2 inches wide so the handle of the umbrella will slide right in.
 The length of the pole is up to you but mine is 4 feet long. This way I can get under it to add more soil and
Pardon My Dust
, easily.   This height offers the best view for watching your flock flip and wiggle in their bathing glory.
* Pro Tip:
 most local (not big-box) hardware stores have a department with a tool that will cut your pole to length so you don't have to buy one that is 6 or 8 feet long. If you have this luxury: ask for an additional cut on one end.   You want the end going in the ground to be a sharp point.   This isn't critical, just helpful AF. *
While waiting for UPS or the Postal Service to make your delivery of the super large umbrella and Pardon My Dust - map out the best place to erect your new dusting space.  

Once you have all your items:
Soil/sand. Organic at most hardware or landscape stores

Treats for Chickens' Pardon My Dust 

Support pole. Purchase at hardware store.

ahnnnd some chickens!
You are ready.
Put your container in place.  If you are using a container that has a bottom (tub, bin, etc) puncture a hole in the bottom to allow for the pole to slip through. Hammer the pole into the middle, add bags of soil or sand, scatter Pardon My Dust on top of soil and slide the umbrella handle inside the pole.  
High-5.
No dusting station? Find one of their dusting holes and add a spoonful. Repeat Pardon My Dust application at least weekly. 
Depending on the size of your container, refill with dry soil when the levels lower. As your chickens frolic, they'll be tossing out the dry soil. Having more on hand saves an extra trip to the store.  A dust bath is the chicken equivalent of a shower- it is both functional and recreational ritual; chickens use dusty baths to clean themselves, to relax, and to social with others. It is the ultimate spa treatment. And with using Pardon My Dust, you'll be cutting down on their exterior pest load which will lead to more eggs and healthier chickens. 
- Dawn, Treats for Chickens 🧡
Can we kelp you? For more information visit Treats for Chickens blog, cluck 
HERE
.
Hungry for more feathered friend wellness? Of course you are because your flock deserves eggscellent treatment. For fabulous and healthy...and pampered chickens year around, Treats for Chickens recommends: 
Pardon My Dust
.
Share your flock experience + photo with Treats for Chickens on Instagram + Facebook with #pardonmydust #treatsforchickens #petsofinstagram #chickensareawesome #mydustyfriend #letsgetdirty #dirtygirls
Let's keep your flock happy + healthy!
Got something to cluck about? Have other suggestions? Questions?
Help fellow chicken parents and leave a comment below!