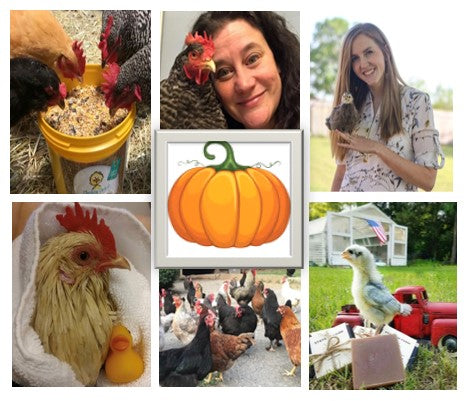 Hello chicken pet parents!
There are some super rad chicken moms and dads out there on Instagram, who also happen to be customers!
So here's to highlighting a few of these cool chicken parents for you to follow on the squares this month!
To start this off, let's begin with Big Al's Homestead @big.als.homestead. This couple is raising backyard chickens in Northern California. 2 human chicken parents, 2 dogs, and 28 chickens – them there is A LOT of eggs! 
 Another chicken mom with a great sense of humor is Fustercluck Farm @fustercluckfarm. I mean just look at her flock name, how f'ing hilarious and perfect is that? She's raising her girls on an urban farm in Oregon. Her one girl named Melva is half Olive Egger and half Gold Laced Wyndotte – they call her a "Chutt" a chicken mutt!
Another great IG account is The Henry Hens @the_henry_hens "The adventures of a flock of spoiled chickens living the dream in Texas". This account has great post captions like, "Lily looks sweet, but if she was a human, she would be asking to speak to the manager at whatever restaurant she happens to be visiting". And as a dedicated chicken mom, when her broody girl Violet wouldn't give up after a MONTH of broodiness, one night mom snuck two baby chicks under her and viola! Violet has turned into the best chicken mom with two sweet little ones.
Mr Reilly and Friends @mrreilly_and_friends is another fun one to follow. Mr. Reilly by the way, is in fact a Siamese cat sharing his world with the likes of Buffy the Vampire Layer, and Miss Zazie a rescued chicken. And around these parts, their broody hens wear hats, lol!
Next there's Brittney over at Round Rock Farm @roundrockfarm who is "raising boys, hugging chickens, and growing a garden in the Arkansas River Valley." She also has a cute herd of goats.  Her flock is over 20 chickens and she had her work cut out for her this summer with a heat index over 100 degrees for weeks plus tornado warnings – holy hell!  She also has a handsome barred rooster named Oreo, and come on, seriously, who doesn't love oreos?!
Lastly (but never least) we have Melisa over at txmbirdie @txmbirdie. Melisa proudly claims to be a "front porch lover, farmer, agripreneur, dog momma, and chicken chaser" among other things. She says that "when she was young chasing chickens on her Grandpa's farm, she'd tell him that someday she wanted chickens in her front yard." Many years later her dream has come true, only she also has ducks roaming with the chickens. Well done dreamer, well done.
And so, as Bugs used to say "That's All Folks"! Check out these accounts and make some new friends in the squares!
-Dawn, Treats for Chickens 🧡
Can we kelp you? For more information about domestic fowls, visit Treats for Chickens blog, cluck 
HERE
.
Hungry for more feathered friend wellness? Of course you do, because your flock deserves eggs (cellent) treat (ment). For fabulous and healthy chickens, Treats for Chickens recommends certified organic treat:
C
luck Yea
.
Share your flock experience with Treats for Chickens on Instagram + Facebook with #treatsforchickens #petsofinstagram #chickensareawesome #hensofinstagram #happyhens #chickenparents #backyardhens #urbanchickenkeeping #certifiedorganicchickentreats
Let's keep your flock happy + healthy!
Got something to cluck about? Have other suggestions? Questions?
Help fellow chicken parents and leave a comment below!