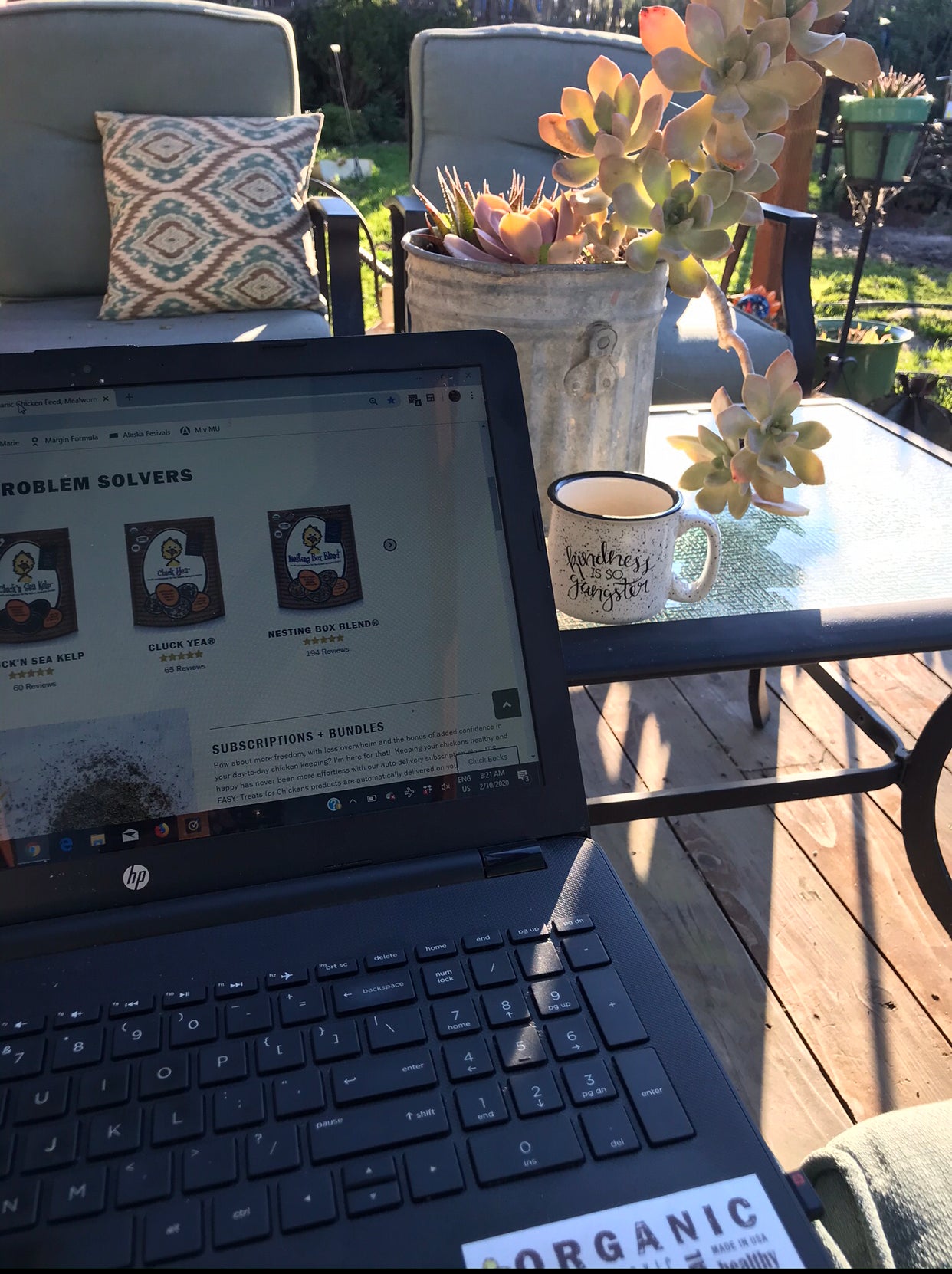 Hi Treats for Chickens' community, it's me, Dawn!
Here's the thing: I realize wholeheartedly that treating your chickens and sprucing up nesting boxes is not on the list of apocalyptic essentials. I am working hard behind the scene in hopes that I am able to welcome my employees back to a healthy, financially stable company once we have passed the curve and return to a sense of normalcy.
And this is where it gets hard for me: asking for your help.
Please, continue to purchase Treats for Chickens products from your local retailers website, Chewy or from us directly at

 

www.treatsforchickens.com.
I would like to encourage you to sign up for Subscribe + Save.  Customers who take advantage of  Subscribe + Save  have first priority on shipments and products. Even sweeter: all items in Subscribe + Save are discounted 20%. Orders are shipped to your door on the schedule you choose. Modify, swap, pause, or cancel at any time. 
Maybe you don't have chickens bhuut you do know someone in your circle that does raise chickens. Again, while it's not on the essentials list a

 

Gift Card

 

from Treats for Chickens would most certainly spark a little joy..
If you continue to shop Treats for Chickens products we have a greater chance of welcoming back employees to the jobs they love at this small but mighty company. 
Another way to help small business right now that don't cost you a dime: 
Leave a review on their site singing the praises of your favorite products. These reviews will help drive sales once the crisis is over.
As a Treats for Chickens newsletter subscriber you will continue to receive scheduled content by way of emails, DIY tutorials, as well as product solutions and spotlights for your chicken keeping. These emails are automated.
In my effort to stay connected to you: I decided to continue to provide this content. I'm not being insensitive to the reality of the Corona Virus around us. I want you to have access to this information. And, if there's something that you'd like to see over the next few weeks - let me know by sending an email to info@treatsforchickens.com or comment below.
Thank you for taking the time to read and helping this small woman-owned business my fellow chicken and fowl parents. 
Stay safe friends.
Make good choices.
Love others and be kind to yourself.
Be an example of compassion.
All the best in healthLove, Dawn  🧡
Share your flock experience with Treats for Chickens on Instagram + Facebook with #treatsforchickens #petsofinstagram #hensofinstagram #chickensareawesome #happyhens #chickenparents #backyardhens #urbanchickenkeeping
Let's keep your flock happy + healthy!
Got something to cluck about? Have other suggestions? Questions?
Help fellow chicken parents and leave a comment below!