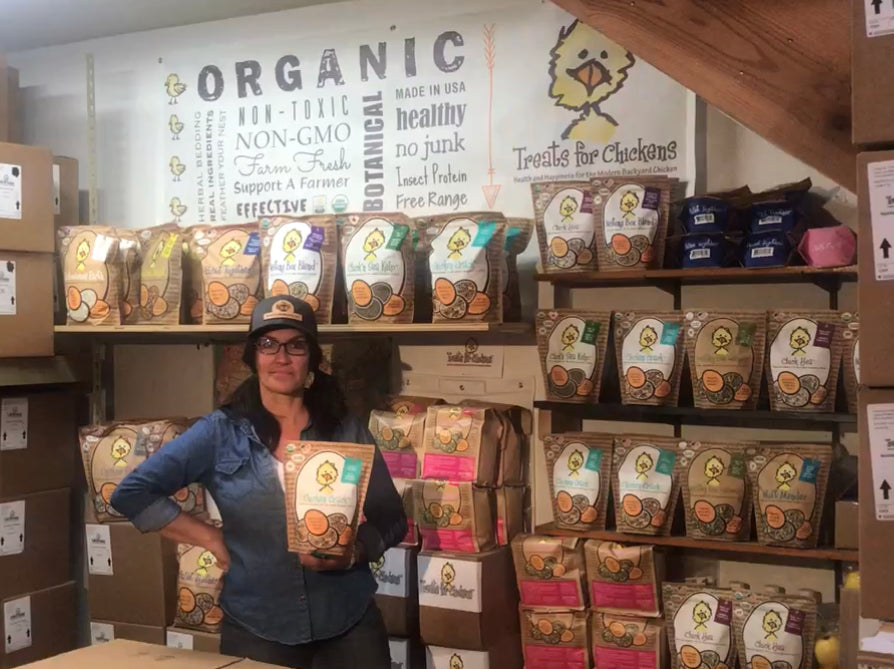 Hello, it's me, Dawn.
It's nearly the end of the year, and I'm wondering what happened to the last 10 months of 2022? I think this is sort of our human condition, right? Always looking back and wondering, "where does the time go?" I can't be the only one feeling this way? 
So, you may or may not notice this is different from the usual writings that I drop into the universe, and that's 100% intentional. I have gone back and forth on what to write. But after dragging my thoughts through some stinky straw, the mud, and all poultry matter (poop) I have found my words and write to you - my fabulous Treats for Chickens community.
Each year I typically share the challenges we've faced as a small business, the ways in which we've overcome and gotten on with the business of getting on. But, I think we all know that this year has been one that we'll be most thankful to put behind us in so many ways, and so this year I'm sparing the lengthy detail, blah blah and coming in hot where my heart is feeling pulled the most! 
Let's start with this economy, huh? Man! It's a turd. Gas prices, diesel, inflation, recession, employee shortages. It's rough out there for most of us, and as a small business owner, it hits me like the pungent stench from a coop that needs some TOUGH love.
Here's the thing about all this economy stuff: your orders are the world to us in a multi-fold of ways. When you order from us directly at treatsforchickens.com, from another online retailer or grab a bag (or three) from the shelf at your local merchant, you make it possible for us to stay in business doing what we love. Ahnnd, if I might brag: doing what we are good at.
It doesn't stop there though.
Your purchase enforces the heartfelt feeling I had so many years ago (13 to be exact) – that backyard chickens make phenomenal pets and are deserving of really splendid lives. You say so much with your purchase, and we hear it loud and clear
What has REALLY hit me throughout the last several months is the messages and from customers, apologetic emails asking to cancel their monthly subscriptions because they cannot afford their flock's goodies anymore.
I know you have a list of things to take care of. TREATS FOR CHICKENS will still be here, waiting for you when you are ready to feather your nest once again. Pleeeeze know that I understand. I think I over-stand actually. The cancelling of your subscription is authentic, genuine and as I've always said with subscriptions: we'll still be friends, promise!
As we move onward to the usual end-of-year sheer lunacy: Black Friday, Small Biz Saturday, Cyber Monday, and all the holiday hoo-haw that settles in January with massive clearances, returns and worn out delivery drivers and retail folks on the front lines - what if we took a different approach this year shopping small, like super small?
It is so true that shopping small costs an additional buck, two or more, but we know that you'll often find better quality at a small business since products, like ours, are seriously handcrafted and/or small batched and mostly unique. Or what about experiences this year instead of tangible, mass produced items?
So you're probably thinking: what in the heck is she talking about? Well, because I love my people and you are my person, I'm sharing a tiny handful of my favorites: woman owned/operated, small businesses where you can source thoughtful, useful items: great as gifts or to simply do some good for yourself this season.
I hope you'll give these ladies a look! I know they've been working hard all year riding the wave alongside us.
So we can all be stress free with no surprises, here's what we are doing and a timeline: 
Friday, 11/25 to Sunday, 11/27: 3 Days of $5 Flat Rate Shipping on Orders $100+
Wednesday, 12/14 to Friday, 12/16: 3 Days to save during our Winter Bundle Sale. Additional $5OFF (making it a $10 discount total) on Winter Blend, Hit that Stink, and Grit & Herb Bundles
Not to be a pest bhuut, we will be sending out gentle reminder messages.
There is one last and very vital item that feels important to share.
I will forever be grateful for the tiny team at Treats for Chickens - these ladies have tenacity, drive, values, heart, ahnnnd their desire to make it right, get it right and do it all with grace and ease makes me proud. There will always be the occasional f-bombs and familiar soliloquies, regardless: it's a joy to be with them in their zone of genius.
If you've ever called-in, received an online order or purchased a product off a store shelf; you can feel what I'm referring to at every touch point along the way (with the exception of our website which is currently in the shop getting her whole self-rebuilt) - I'm so grateful.
In keeping with that gratitude, this year I've asked my team to weigh in on Small Business Saturday, what it's like working for a small biz these days. They'll be back next week (11/23) with their stories and links will be posted here. 
Okay, that is.it.for.me. Thank you so very much from every bit of my being! Wishing you and yours all the health and happiness as you gather to round out this year in whatever way feels right for you.
 -Dawn, Treats for Chickens 🧡
Share your experiences with Treats for Chickens on Instagram + Facebook with #treatsforchickens #smallbusinesslove  #smallbusinessowner #womensupportingwomen #womenowned #womeninbusiness #bosschick #shopsmallbiglove 
Let's keep your flock happy + healthy!
Got something to cluck about? Have other suggestions? Questions?
Help fellow chicken parents and leave a comment below!