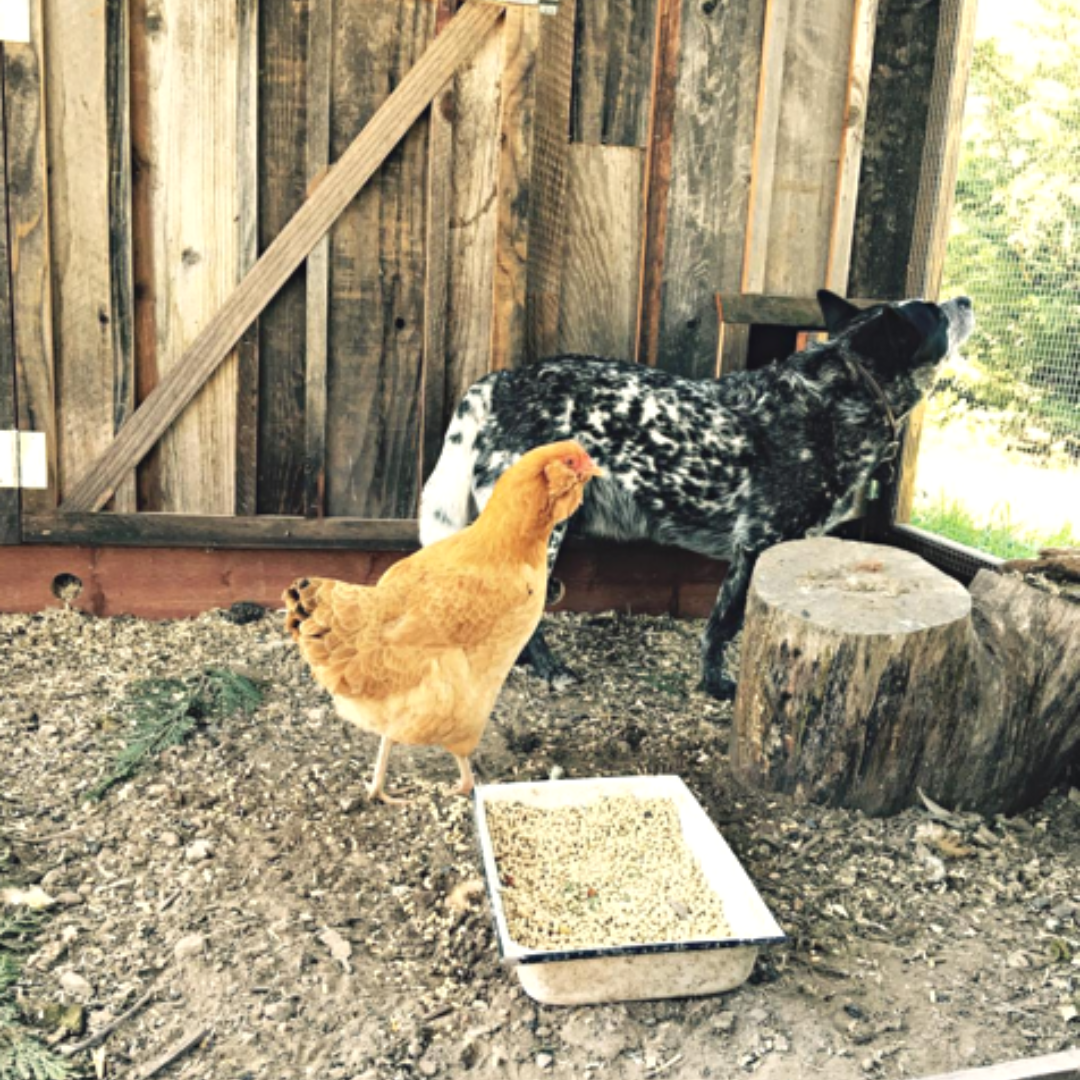 Hello everyone, and Happy National Take Your Dog to Work Day!
This is Jocoya (also known as Fox), Treats for Chickens' Administrator. We celebrate not only our feathered friends (our dear chickens, turkeys, ducks, geese, etc.), but also one of our furry friends- the dog. 
Every dog has its day! Which is the Friday following Father's Day each year (June 24th, 2022) as employees celebrate National Take Your Dog to Work Day across the country. This day originated in the United Kingdom in 1996, but in 1999, Pet Sitters International (PSI) created this day in the United States. PSI aims to inspire others to adopt responsibly from shelters and humane societies. And to remind us of the unconditional love that our furry friends provide us. That warm companionship between humans and canines.
For most companies having a dog in the office is a rare occasion except for a guide dog, emotional companion, or National Pet Week. However, at Treats for Chickens, we have our own onsite companion. The one and only Charlie. Hem, Charles Rupert Russell. 
Treats for Chickens' Charles!
This handsome Australian Cattle Dog, who is soon-to-be 13 years old, brings joy to Treats for Chickens' environment. Charles has a Masters in Chicken Etiquette and Ph.D. in Flock Friends. He easily co-exists with Dawn's backyard chickens. He's a little hard of hearing (he proudly wears his orange "Deaf Dog" suit) and absent-minded, but he is a sweetheart that stares into your soul with those moist brown eyes. Or maybe he is just hoping for a snack from the Treats for Chickens team?
Pet chicken parents know the benefits of having chickens, from their bubbly (or moody) personalities to their delicious egg supply. Here are the benefits of having a dog in the workplace.  
PROS 
🐾 Several studies have indicated that having pets in the workplace reduces stress. Articles for your leisure: WGU, Arbor, and Harvard Medical School.
🐾 Increase productivity. Wait, what? Yes, taking breaks to attend to your dog's needs allows employees to feel refresh. 
🐾 Both of you get a chance to be physically activated- sneak in a walk or two.
🐾 Both of you get more social engagement. 
🐾 Your dog companion is a great morale booster to the entire office. I mean, you cannot deny the adorableness!!!
CONS
🐾 Fellow employees may have allergies or phobias. Please check with your co-workers. 
🐾 Not well-trained dogs could cause distraction or risk of injury.
TOP TIPS
🐾 Like your chicken's coop, do not forget to prepare your space for your dog. Dog-proof the workplace to make sure your companion is in a safe environment. From toxic plants, electrical cords, and trash, or if your job is outside, keep them away from the roads or pesticides.
🐾 Check in with your workplace to respect those allergies, phobia, and non-animal loving coworkers.
🐾 Designate a buddy system in case you are away from your dog. 
🐾 Make sure your dog is fit in the work environment. Are their shots current? Has your pooch been recently bathed and groomed before accompanying you to work? And be mindful of your dog's manners- are they calm with strangers and in new places.
🐾 Bring your dog's goods such as water, food, bowls, leash, bedding, toys, medications, a pet-safe disinfectant, and poop bags (which oddly most of them smell like molasses). If in the summer, bring something to keep them cool, such as a fan, ice cubs, or frozen peas.
🐾 Scheduling your dog's food and water consumption so the needed break is around an appropriate time.
🐾 If working in a hybrid or remote setting, don't forget to take breaks and hang out with your dog.
🐾 Be natural in introducing your dog to the workplace. Dog lovers will make themselves known.
🐾 Have a solid backup plan, aka exit strategy. If your dog is giving you the NO, have the time and way to bring your dog home safely. Please do NOT leave your dog in the vehicle.
Whew, there is a list to convince your boss or HR to adopt a pet-friendly policy—joking (sort of) and a chance to enjoy your pooch at work. Alternative ways to celebrate this June 24th include volunteering at an animal shelter or pet rescue, organizing a virtual dog hang out with fellow dog lovers, or visiting the dog park with your furry companion.
Wishing your furry friends and you a productive Take Your Dog to Work Day!
Okay, another photo of Treats for Chickens' Charles! I cannot help it.
-Jocoya, Treats for Chickens 🧡
Can we kelp you? Let us know either in the comments section if you wish for Treats for Chickens to blog on how to introduce dogs to chickens. For other topics, visit Treats for Chickens blog, cluck 
HERE
Hungry for more chicks wellness? Of course you do, because your flock deserves eggs (cellent) treat (ment). For fabulous and healthy chicks, Treats for Chickens recommends blended organic ingredients supplement:
New Chicks in Town
.
Share your dog's workplace experience with Treats for Chickens on Instagram + Facebook with #TakeYourDogToWorkDay, #TYDTWD #officedog #workdog #chickendog #everydoghasitsday
Let's keep your flock happy + healthy!
Got something to cluck about? Have other suggestions? Questions?
Help fellow chicken parents, and leave a comment below!