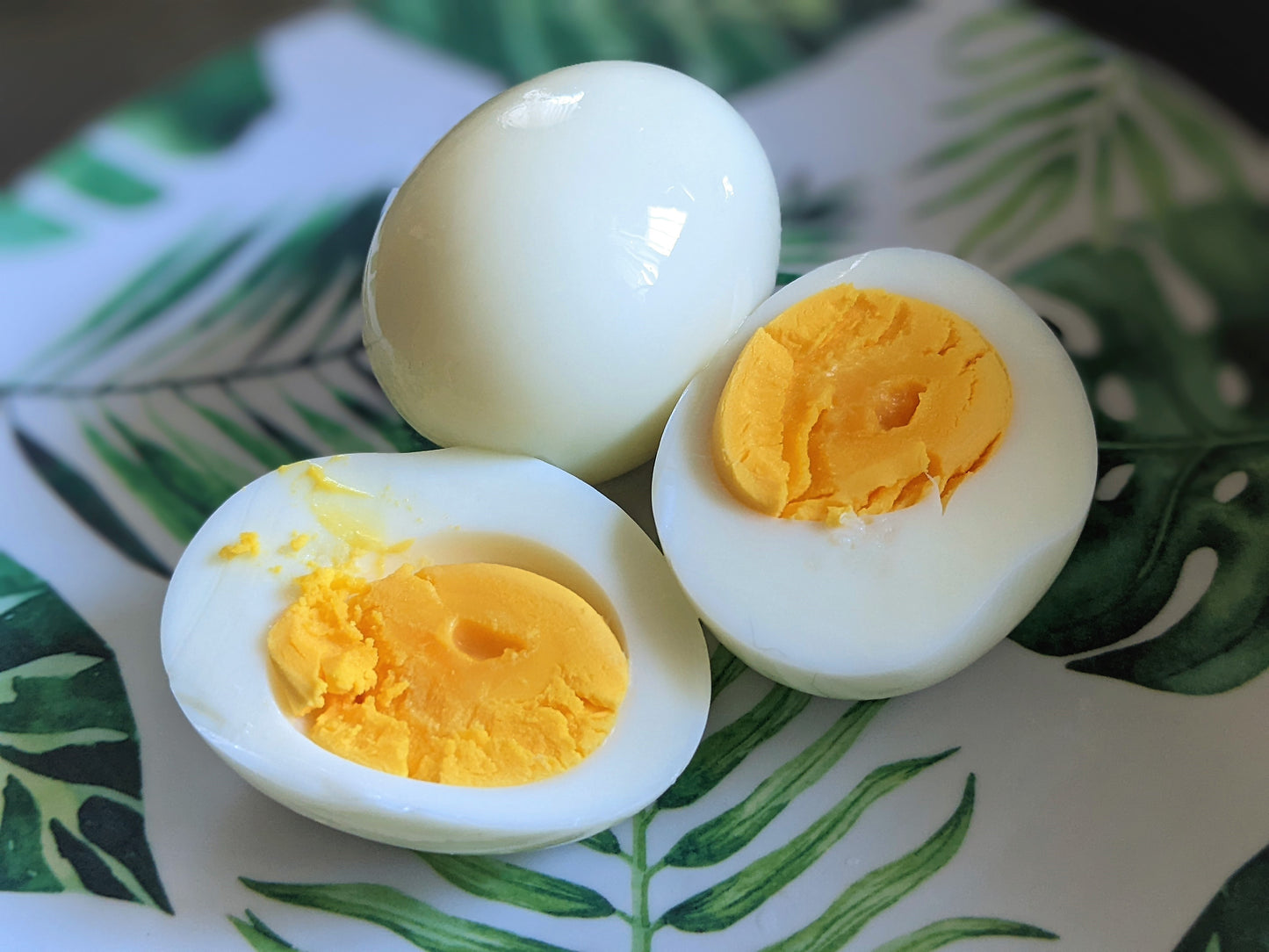 Hello and Happy National Egg Day!
Sonia here, Treats for Chickens Warehouse Coordinator. And I am here again to offer another egg activity for family and friends- and the foodies. 
June 3rd is an eggcellent day, a day we celebrate the egg: nature's neat package of protein and vitamins that makes a simple and delicious breakfast or snack. There are many ways to prepare eggs, from elaborate recipes to simple ones, and the simplest of all is perhaps the hard-boiled egg.
A little birdie told me that, as popular as boiling eggs is, it is not the ideal way. Steaming, this birdie said, was better! Boiling was the only way I had ever known to cook eggs in-shell, and so like a true skeptic, I tested the theory out. I found that the bird was correct – steaming eggs is better than boiling them, one of the reasons being that steamed eggs are easier to peel.
That's right. Steaming eggs means saying goodbye to the struggle of peeling away the egg shell. No more boiled eggs covered in pock marks from picking off shell bits, no more unwelcome crunch in your egg salad. The shell comes right off once you get the peel started on a steamed egg. This is especially useful when you need to peel many eggs, like when preparing 24 deviled eggs as hors d'oeuvres.
To prepare your own easy-to-peel smooth bodied eggs, here are the details:
You will need:
A pot and lid
A steaming basket or colander
Water
The eggs (4-6)
A timer
First off, we are using chicken eggs. Goose, duck, and turkey eggs are all popular to eat around the world, offering a slightly different taste from chicken eggs. But this simple recipe, we are going for the lovely chicken egg. 
If you are using a steaming basket, fill the pot with enough water to touch the bottom of the basket but not submerge it. I used a colander, seated inside a pot, and filled the bottom of the pot with about 2 inches of water.
Note* If you plan on boiling many eggs at a time, this method may be better than using a steam basket as it will allow you to put in more water at the start and create steam for longer.
Once the water and basket or colander are in place, add the lid and bring the water to a boil. Once it is boiling and fogging up the top, the eggs are ready to go in. It is ideal only to do one layer of eggs at a time. You can add more layers, but you'll need to add time to accommodate them.
Add the eggs into the basket or colander, replace the lid, and set a timer to 15 minutes. If you are doing more than 6, or if your eggs are layered, at the 15-minute mark, remove one egg from the upper layer to peel and cut open to see if it has achieved your desired yolk consistency.
Once the timer goes off, turn off the heat and carefully remove the eggs using a ladle. Place them into a little ice bath or run them under cold water to cool them down. Once the eggs are cooled, they can be peeled. You'll find that the egg shell comes right off after the initial crack and start.
I hope this little trick makes your egg boiling ventures easier and more efficient, leaving less time to cook and peel eggs and more time to enjoy them. The Treats for Chickens team and I cannot wait to see your egg results. I wish you all a delicious Friday and National Egg Day. 
Happy steaming!
-Sonia, Treats for Chickens 🧡
Can we kelp you? For more information about eggs for your domestic fowls, visit Treats for Chickens blog, cluck 
HERE
and cluck 
HERE
.
Hungry for more egg improvement? Of course you do, because your flock deserves eggs (cellent) treat (ment). For fabulous eggs year around, Treats for Chickens recommends blended organic ingredients supplement:
Healthy Hen Wellness Blend
.
Share your egg results with Treats for Chickens on Instagram + Facebook with #treatsforchickens #petsofinstagram #hensofinstagram #chickensareawesome #chickenparents #backyardhens #urbanchickenkeeping #nationaleggday #yourfavoriteeggpun 
Let's keep your flock happy + healthy!
Got something to cluck about? Have other suggestions? Questions? 
Help fellow chicken parents and leave a comment below!