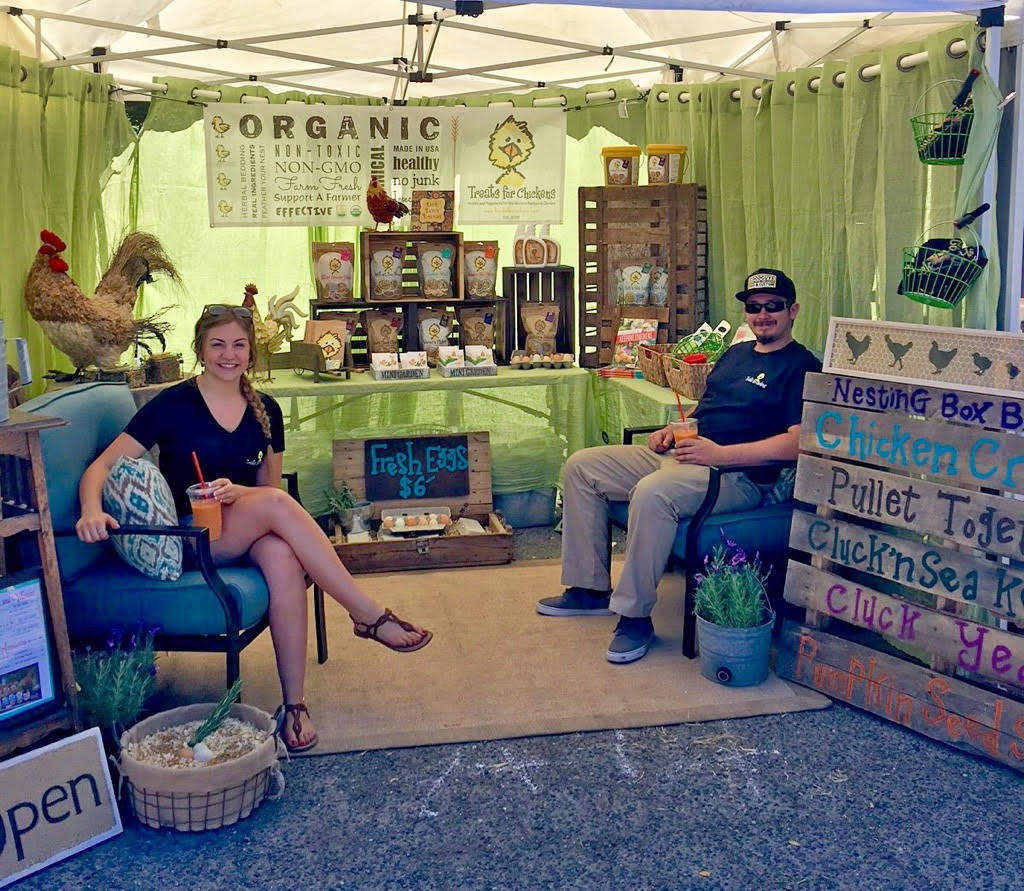 Hi Treats for Chickens community, it's me, Dawn!
We had a BLAST at the Petaluma Art & Garden Festival that was on July 12th.
It's a great, local event that happens every year, and Treats for Chickens is always blessed to be a part of the festivities. The Art & Garden festival is one of Petaluma's most loved events, a fun-filled day for all the family! There are 145+ booths of unique handmade items made by local crafters and artisans, plus gardeners and live music. We spent the entire day giving out samples and brochures, and showing people our entire product line. It was wonderful to hear all the sweet, and sometimes hilarious, stories people would tell us about their own flock and the adventures shared together.
Here's our booth! See that rooster in the right hand corner? That is our beloved office rooster. But let me tell you, sometimes there seemed to be more people interested in the rooster then our actual products! It was quite funny hearing people throw out prices, assuming that he was for sale! No way. We could never part with him. Some of the bids went as high as $300! Can you believe it?

We also did a super fun giveaway! All they had to do was take a photo of themselves with the booth, post it on Facebook, and tag Treats for Chickens..
We were giving our fans that attended this festival the chance to win one 5lb bag of Chicken Crack, one 5oz bag of Nesting Box Blend, and one 2lb bag of Cluck'n Sea Kelp. 
That's right. She won all those prizes! Shout out to Sandra M. for participating! We had a fantastic time at the 2017 Petaluma Art & Garden Festival, and will definitely be attending in the future. Thanks for checking in!
-Dawn, Treats for Chickens  🧡
Can we kelp you? For more information about domestic fowls, visit Treats for Chickens blog, cluck 
HERE
.
Hungry for more feathered friend wellness? Of course you do, because your flock deserves eggs (cellent) treat (ment). For fabulous and healthy chickens, Treats for Chickens recommends blended organic ingredients supplement:
 Healthy Hen Wellness Blend.
Share your flock experience with Treats for Chickens on Instagram + Facebook with #treatsforchickens #petsofinstagram #chickensareawesome #healthyhenwellness #smallbusiness #shoplocal
Let's keep your flock happy + healthy!
Got something to cluck about? Have other suggestions? Questions?
Help fellow chicken parents and leave a comment below!