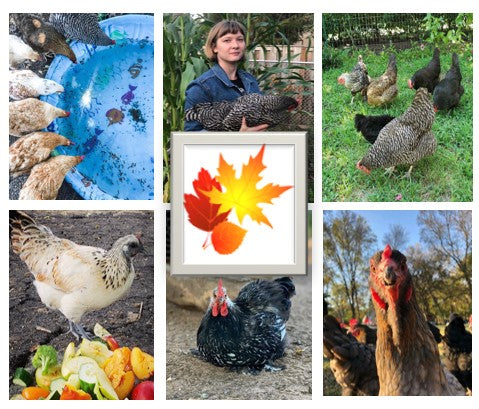 Hello chicken pet parents!
There are some super rad chicken moms and dads out there on Instagram, who also happen to be customers!
So here's to highlighting a few of these cool chicken parents for you to follow on the squares this month- November!
Let's start things off with Tara over at Beaver Vineyards @beavervineyards who is one badass woman farmer! In addition to raising and rescuing chickens (bless her soul!) she also helps her father manage huge agricultural crops of grain and corn, along with tending to her own vineyard crop. Jumping on a GIANT tractor doesn't intimidate her, no ma'am! Two of her chickens are Mary Kate and Ashley, no doubt soon to be running their own empire one day!
Next up is Best Little Henhouse … in Oregon - another great account to follow @bestlittlehenhouse. When you go to the highlights, she has sections for "Ask Wanda" "Ask Loretta" "Ask Peggy" – all are sections where people have asked her chickens questions and the answers are clucking hilarious! And her hen Emmylou's Rules for Good Living: 1. Make time to lay in the sunshine, 2. Shake off the bad stuff, 3. You deserve treats, always, 4. Be the biggest version of yourself. Miss Emmylou knows what she's talking about!
Here we have @chicksofearl Chicks of Earl, and in addition to chickens, this chicken mom loves flowers, gardening, turtles, and her cat PoKitty. She has a cute Etsy shop featuring banners, dog bandanas, and flags. Some of her girls are Big Bertha, Dixie, Bernadette, Pita, and Margarita and man are they adorable!
Up next is Randi over at Farm Girl Found @farmgirlfound and she is one serious farm girl! This spring she hatched 67 chicks … yes you read that right! Along with fostering and bottle feeding two litters of kittens, and raising guinea pigs and bunnies, all while battling an a chronic illness – this girl is a fighter and we love it!
Over at The Fourteen Acres @thefourteenacres, Leslie, her husband, and her flock have been surviving the wicked Texas heat – our heart and ice buckets go out to her and all of y'all that live in Texas, boy it can get hot! This chicken mom also breeds chickens, is a beekeeper, loves gardening, and animals. And if you want to see a wonderful assortment of speckled eggs, head over to her squares – she's got some beauties!
Lastly, but never least, at Josie's Ranch @josiesranch, this is another chicken mom dealing with the Texas heat every summer. Man oh man we don't envy you! In addition to her chicken flock she also raises guinea fowl, turkeys, and ducks – what an orchestra that must be! She says every time she checks on her Sicilian Buttercups she wants to play "Build Me Up Buttercup"!
And there you have it - check out these cool chicken moms and dads!
-Dawn, Treats for Chickens 🧡
Can we kelp you? For more information about domestic fowls, visit Treats for Chickens blog, cluck 
HERE
.
Hungry for more feathered friend wellness? Of course you do, because your flock deserves eggs (cellent) treat (ment). For fabulous and healthy chickens, Treats for Chickens recommends certified organic supplement:
Cluck'n Sea Kelp
.
Share your flock experience with Treats for Chickens on Instagram + Facebook with #treatsforchickens #petsofinstagram #chickensareawesome #hensofinstagram #happyhens #chickenparents #backyardhens #urbanchickenkeeping #certifiedorganicchickensupplement
Let's keep your flock happy + healthy!
Got something to cluck about? Have other suggestions? Questions?
Help fellow chicken parents and leave a comment below!