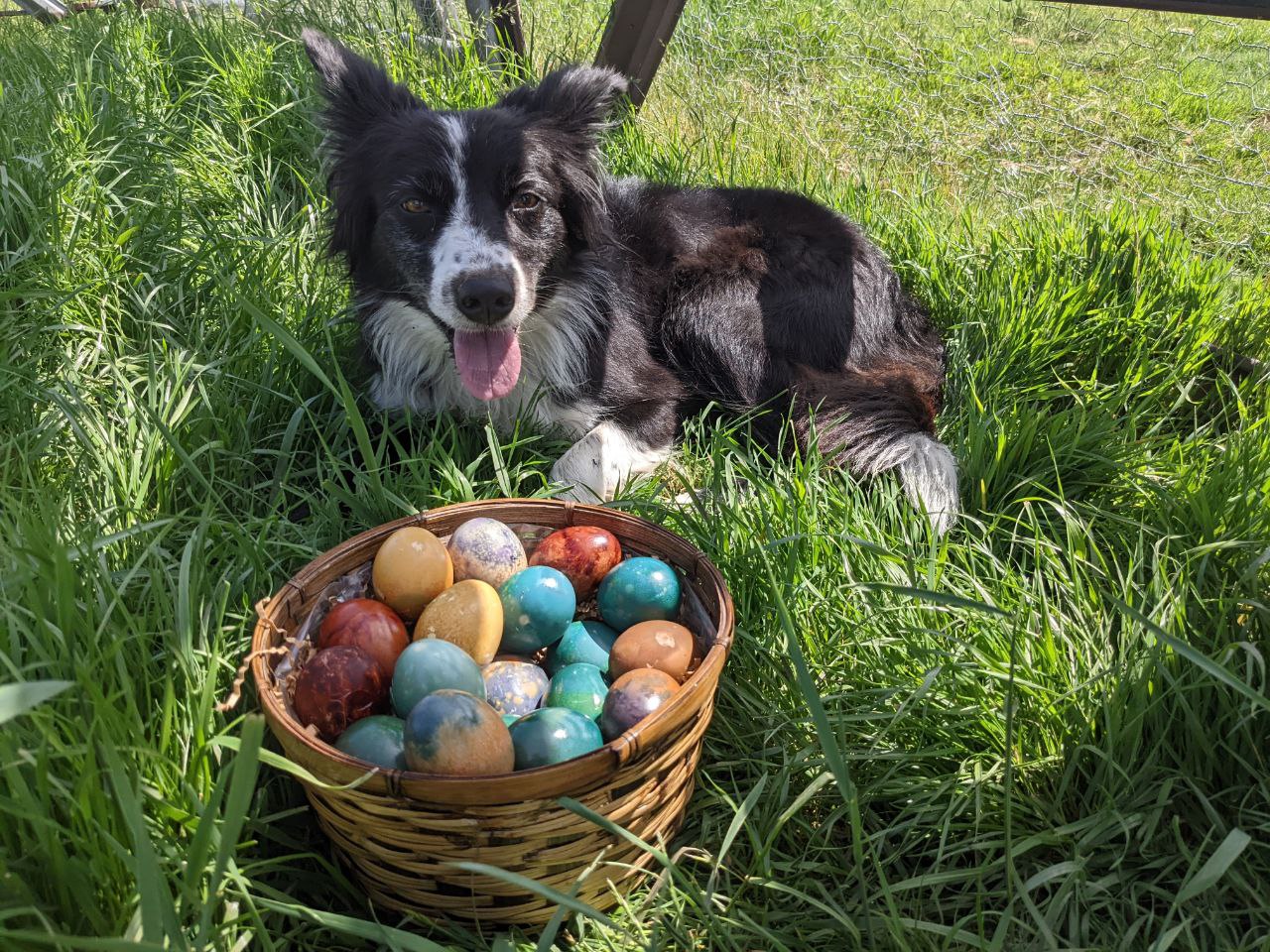 Hello and Happy Spring, Sonia here, Treats for Chickens Operations Manager.
With Easter coming up, you will see Easter egg dye kits on store shelves, with their handy little aluminum "spoons'' and hot pink and neon green dye tablets. If you hunt for Easter eggs, these bright colors help catch your eye when hidden throughout the yard, garden and tall grasses.
If you've ever had a lingering concern and wondered – are these dyes safe?…I have an alternative for you.
If you are looking for something more unique for this year's Easter egg hunt or Easter brunch display please read on.
Eggshells can be dyed naturally, using ingredients you probably have in your kitchen right now. I did this last year, and you can read about the process here, but this year I've added something new – a marbled blue made using frozen blueberries. 
Dying eggs naturally using water, vinegar, fruits and vegetables creates beautiful results with many varieties. Part of the fun of dying eggs naturally is the lack of consistency – there will always be a bit of variance, making for a stunning display of colorful naturally dyed eggs when presented together. Now let's get into it!
Gather your hard-boiled eggs, containers to dye them in, [I suggest glass ] and a bottle of white vinegar. Each dye will require 1 tablespoon of vinegar per cup of water. Vinegar helps to drop the Ph of the liquid so that the natural color will bind to the eggshells. You will also need oil such as olive or canola and a paper towel to complete the finishing touches. 
Once all your eggs are naturally dyed and dried, you will notice that the color is matte with little or no shine. Here's where the oil and paper towel comes in. Place a small amount of oil on the paper towel and then gently dab each egg. This will make the shells shiny and cause each color to pop. Once the eggs are oiled, they're ready to be put on display – or hidden away for young hunters to find them. 
Natural egg dying is a fun project the whole family can be involved in. Since you choose the vegetables, you can ensure your dyes are organic. You can compost the leftover boiled vegetable bits and make the process waste-free. It is a beautiful alternative to store-bought dyes, and the result is a rainbow that is different every time.
I had a lot of fun with this project and I hope you try it too! All the best, Sonia! PS: that's Betsey up there with the basket of colored eggs. 
-Sonia, Treats for Chickens 🧡
Can we kelp you? For more information about domestic fowls, visit Treats for Chickens blog, cluck 
HERE
.
Hungry for more feathered friend wellness? Of course you do, because your flock deserves eggs (cellent) treat (ment). For fabulous and healthy chickens, Treats for Chickens recommends certified organic supplement and blended organic ingredients supplement: 
Cluck'n Sea Kelp
and
Healthy Hen Wellness Blend
.
Share your flock experience with Treats for Chickens on Instagram + Facebook with #treatsforchickens #petsofinstagram #chickensareawesome #chickengarden #chickenmanure #seakelpmeal #greengarden
Let's keep your flock happy + healthy!
Got something to cluck about? Have other suggestions? Questions?
Help fellow chicken parents and leave a comment below!